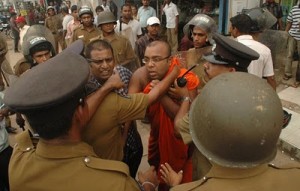 Bill gives police a free hand
The Frontline Socialist Party yesterday called upon the people to rise up against the government's plan to bring in new laws in order to extend the period of detention of persons arrested without a warrant.
The FSP politburo, in a statement, said that a draft bill had been presented to the Parliament by the government on October 11, under the title 'Code of Criminal Procedure (Special Provision) Bill' to extend the detention period from 24 hours to 48 hours, after arrest to facilitate the investigation process.

The statement said: "It is also reported that this bill would be taken up for debate on October 24. We perceive this amendment to the law as another blow to democracy and human rights of the people. The necessity to extend the detention of persons, arrested without a warrant, could not be justified by any means in a democracy. It is very clear that this additional time has been sought to level false accusations and prepare evidence to win cases against framed innocents. The existing law demands such a person should be produced before a magistrate with the charges which could justify the detention, but under the proposed law the government could do away with the requirement for 48 hours. Similarly, the police could file the case in the High Court by skipping the Magistrate when they arrest persons engaged in street protests on the charge of causing public disturbance.
"When a person is produced before a magistrate he is entitled to seek bail three times but this right has been deprived when he or she is directly produced before a high court.
"There are many other provisions which deprive the democratic and human rights of the people. One example is that the date of effect as regards these laws has been backdated to 2009.
"We believe that the people should oppose these draconian laws and must come forward to defeat them," the FSP statement added.
IS