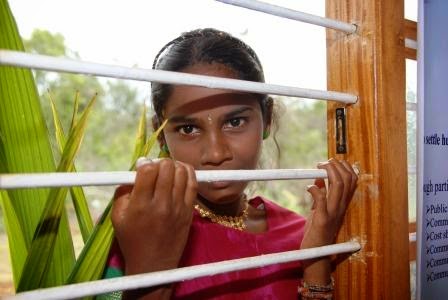 (photo: World Bank blog)
Recent statements made by certain government ministers indicate a lack of importance in addressing issues of gender equality in Sri Lanka and they are of grave concern, UNFPA Representative in Sri Lanka, Alain Sibenaler, said yesterday. Despite the commitment shown by the Sri Lankan Government to address issues of gender based violence and the positive measures implemented in that direction, Sibenaler said statements by certain government ministers undermining such efforts are of concern as they illustrate attitudes at the highest levels of the decision making processes.
"These statements point to potential difficulties in pushing for progressive policies and implementing programmes which address sexual and gender based violence," he said speaking at an event held concurrent to the Global Summit to End Sexual Violence in Conflict, at the British High Commission yesterday.
He also expressed concern over the limited availability of representative data on the occurrence and nature of incidents concerning incidents of violence against women and violence against young boys. "This is an issue that has affected every part of Sri Lanka but at the same time, we need to recognize that the North and East have specific degree variations of vulnerability that do differ from the rest of the country," he added.
Sibenaler also noted that former conflict affected areas in Sri Lanka were more vulnerable to sexual violence due to several factors, including the continued militarisation, lack of adequate electricity and sanitation facilities, exacerbating the insecurity faced by women living in remote areas.
Quoting statistics from a UNHCR study carried out in selected districts in the North and East, he said that 40% of women stating they do not feel safe staying at home alone indicates serious safety concerns at the village level for women.
Meanwhile, British High Commissioner for Sri Lanka, John Rankin, addressing the gathering yesterday, noted that sexual and gender based violence was not simply a moral issue but also a foreign policy issue.
"It is a fundamental issue of justice. Each time it happens and the world does nothing a precedent is set that sexual violence can be used with impunity," he said adding that no country dedicated to safeguarding human rights can chose to turn a blind eye to sexual violence in conflict. "Therefore, ending it is a national security imperative," he added.
He went on to state that although it has often been said that sexual violence in conflict cannot be effectively addressed, changing public opinion and government policies can bring about changes. "The same thing was said about the slave trade and banning arms trade. But there is evidence that change can happen," he added.
More than 100 government officials, heads of UN agencies and nearly 1000 experts were meeting at the Global Summit to end Sexual Violence in Conflict presently continuing in London. It had been organised as part of a campaign launched by UK Foreign Secretary, William Hague and UN Special Envoy for Refugees, Angelina Jolie, on Preventing Sexual Violence Initiative in 2012.
Over 150 countries have endorsed the declaration of commitment to end sexual violence in conflict including Nigeria and Burma. However, it was reported that Sri Lanka did not partake in the Summit.
The Summit is also set to introduce an international protocol on how to document and investigate sexual violence in conflict which would help investigators preserve evidence in the aftermath of an attack, which would increase the chances of prosecution and protecting victims from the trauma involved. (Lakna Paranamanna)