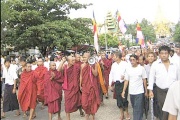 anti Muslim protest in SL
The Criminal Investigations Department (CID) requested a list of all the mosques and madrasas in the country from the Department of Muslim Religious and Cultural Affairs, sources from the Department told Ceylon Today. An ethnic-Muslim officer has visited the Department yesterday and verbally requested the documentation, and the department has asked for a written request letter, after which the list could be provided.

M.T. Hasen Ali, parliamentarian for the Sri Lanka Muslim Congress expressed his concerns over the developments and said that the leader of the party, Justice Minister Rauff Hakeem will be taking up the matter with President Mahinda Rajapaksa.
"This is not a welcoming thing, and we don't know why they are picking on the Muslims," he said.
"Just because we raised our voices when monks wanted to destroy our religious places, this kind of persecution should not take place – there are no excuses for this," said Hasen Ali.
"The CID has no business in requesting for the information," said Senior Minister A.H.M. Fowzie, adding that he was unaware of the incident.
He added that the matter would be taken up with the Inspector General of Police when more information into the matter is found by the Minister.
"This is concerning development," said Colombo Municipal Councillor Azad Salley, adding "At a time where there have been several attacks on mosques and madrasas, and where some Muslims have been intimidated, this is worrying."
When contacted, the CID said they were unsure which unit within the department had requested the information, and did not know the reason for the request.
Repeated attempts to contact SP Ajith Rohana, the Police Media Spokesperson, failed.
The government came under pressure from Buddhist monks last month to remove a mosque in Dambulla, and another madrasa in Dehiwala came under a stone attack last week by elements allegedly connected to a pro-Buddhist political party.
By Dinidu de Alwis
CT