(The US$1.4 billion Colombo Port City project was shelved after Mahinda Rajapaksa lost power. Original photo: Reuters)
In a significant move, China has dispatched a special envoy to Sri Lanka, where major Chinese investments are being reviewed since a Beijing-friendly president was ousted from power in January and a recent parliamentary election reinstated a national unity government seeking a more neutral foreign policy.
The South China Morning Post has learnt that Beijing has appointed Vice-Minister of Foreign Affairs Liu Zhenmin as the first special envoy for the strategically located Indian Ocean nation since the parliamentary elections in August. His visit comes on the heels of back-to-back trips by the newly elected prime minister, Ranil Wickremesinghe, to India and Japan.
With extensive experience as an envoy to the United Nations, Liu has visited Sri Lanka several times, including once last year.
There has been no high-level interaction between China and Sri Lanka since the August elections Sri Lankan government official
The UN recently passed a major resolution on war crimes during the final years of the civil war between Colombo and Tamil rebels.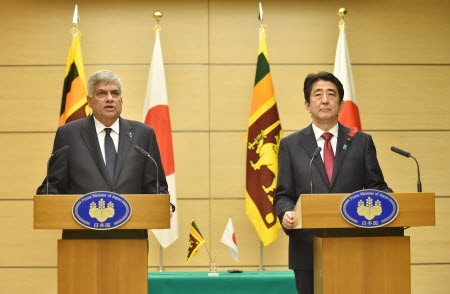 "The purpose of the special envoy's trip is to congratulate the prime minister and probably invite him to undertake a China trip, now that he has visited Japan and India," a Sri Lankan official said. "There has been no high-level interaction between China and Sri Lanka since the August elections. The US, on the other hand, sent two assistant secretaries of state just days after the election. There have also been high-level interactions on the just-concluded UN General Assembly, apart from the prime minister's visit to Delhi and Tokyo."
China pumped billions of dollars into infrastructure projects in Sri Lanka during the corruption-tainted presidency of Mahinda Rajapaksa. The new government alleges these projects were contracted out on unequal terms favouring Chinese companies. Nearly 70 per cent of the infrastructure projects in the country in the past six years have been funded by China and built by Chinese companies.
The most controversial is Colombo Port City, a real estate reclamation project the size of Monaco. The US$1.4 billion project, which would have been the biggest foreign direct investment in Sri Lanka, was shelved after Rajapaksa lost power.
Inaugurated by President Xi Jinping in September and financed by state-controlled and Hong Kong-listed China Communications Construction Co (CCCC), the stalled project has become a bone of contention between Sri Lanka and China, which sees it as a barometer of Colombo's commitment to maintaining good relations.