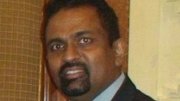 Anthonypillai Mahendrarajah had reportedly started building a house on family land when he was killed. Canada says it expects Sri Lanka to make a full investigation of the murder of a Canadian citizen in northern Sri Lanka last week.

Reports say Anthonypillai Mahendrarajah, of Sri Lankan Tamil origin, was killed when he went to reclaim property lost during the war.
His properties were said to be in Kilinochchi, the town that became the headquarters for Tamil Tiger rebels.
Sri Lanka's army defeated separatist rebels in 2009 after 26 years of war.
The Canadian High Commissioner to Sri Lanka, Bruce Levy, told the BBC that Mr Mahendrarajah was apparently murdered by a group of men just outside Kilinochchi.
For years the Tamil Tiger headquarters, the town is now heavily guarded by the military.
Mr Levy said he had sent a formal note to the government saying a full investigation of last week's killing was needed and Canada would be tracking its progress.

Building a house
Media reports and sources in northern Sri Lanka said villagers reported seeing men in balaclavas attack Mr Mahendrarajah. He had struggled with his killers and his genitals were mutilated.
He is said to have been the wealthy owner of shops in Kilinochchi who fled and settled in Canada during the war years. His properties were taken over by the Tamil Tigers and are reportedly now in the hands of a Sri Lankan supermarket chain and other businesses.
He had returned to the country to reclaim his land and had started building a house on it when he was killed.
Some reports say he had got into arguments with the military on the issue and the pro-Tiger website, TamilNet, said his movements had been monitored by military intelligence.
The police spokesman declined to comment much but told the BBC four teams of investigators had been deployed but no-one had yet been arrested.
This week the Sri Lankan government said it would welcome and accept refugees wanting to return from overseas but incidents like this are likely to put many off.
BBC