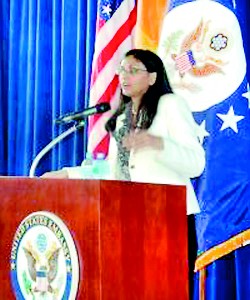 biswal
Ms. Biswal at the news conference
at the US Embassy yesterday.
Pic courtesy @NishaBiswal
Namini Wijedasa
Voices concern over worsening human rights situation, attack on religious minorities and corruption
Frustration and scepticism in the United States and international community about Sri Lanka's lack of progress in investigating the final days of the war have led to increasing calls for an international investigation, US Assistant Secretary of State for South and Central Asian Affairs, Nisha Biswal, said yesterday.
She also expressed concern over the "worsening" human rights situation, attacks on religious minorities and the weakening of the rule of law and corruption.

Patience was wearing thin, Ms. Biswal warned, during a news conference at the conclusion of her two-day visit.
"We have been strongly urging for a Sri Lankan process to investigate the final days of the war," she said. "We understand the growing concern, frustration and scepticism among many in my country and many in the international community that have led to increasing calls for an international investigation and international processes."
Despite several questions by journalists, Ms. Biswal would not be drawn intorevealing whether the third US-sponsored resolution on Sri Lanka would push for an international war crimes investigation. The initiative is due to come up in the UN Human Rights Council in March.
"It's too early to determine what the text of the resolution will be exactly," she said. "But what we have called for in the prior two resolutions has been for a process, a Sri Lankan-led process, to address issues of justice, reconciliation and accountability and for Sri Lanka to implement the recommendations of the LLRC."
In a prepared statement read out before a brief question-and-answer session, Ms. Biswal observed that there has been "insufficient progress in addressing justice, reconciliation and accountability".
"The United States has always supported a Sri Lankan process to resolve issues emanating from the conflict," she said. "But as I earlier indicated, that patience is wearing thin with the pace of progress, including implementing the recommendations of the LLRC."
Ms. Biswal alluded to a "worsening situation with respect to human rights, including continued attacks against religious minorities, as well as the weakening of the rule of law and an increase in the levels of corruption and impunity".
"Furthermore, we are aware that in the past, individuals who have met with Foreign Officials have been met with intimidating visits and calls," she noted. "I would say that we view this very seriously and find it unacceptable."
The statement observed, pointedly, that the US in 2013 donated a US$ 2.1 million forensics laboratory to the Sri Lankan Government. "We are prepared to offer additional technical assistance to ensure credible, transparent, independent and verifiable investigations take place," she said.
Ms. Biswal rejected the suggestion that repeated resolutions against Sri Lanka might be leading to increased polarisation among communities here. "The divisions have existed long before the resolutions," she said. "And almost five years after the end of the conflict, meaningful steps at reconciliation have yet to be taken."
"It has been the desire of many to provide space for the Sri Lankan people to come together, to heal the wounds of war," she elaborated. "But when that space is not used productively and aggressively to pursue peace and to pursue reconciliation, to pursue justice and accountability, then it draws the concern of the international community. That is where we find ourselves."
In the North, which she visited, Ms. Biswal was informed of people who were still accounted for and whose whereabouts and fate were unknown to their family members. "We heard about individuals and organisations that continue to feel threatened and intimidated," she said. "When such a climate persists five years after the end of conflict, then I think there is some cause for those individuals to feel that an international process is needed."
Ms. Biswal, who will travel to London and Geneva, was asked why she was not visiting India which is an important player in the UNHRC. She said she would seek an opportunity to meet the Indian High Commissioner in Geneva.
She also said the US was not "at this point" discussing sanctions against Sri Lanka. "We are still very much committed to seeing progress on these issues," she asserted. "We believe that there is a desire within the Sri Lanka people to resolve the issue of the war, and to move forward, and to bring sustainable peace and prosperity for all Sri Lankans. We want to work with Sri Lanka as it moves down that path."
It was pointed out to Ms. Biswal that, despite US concerns, a vast majority of Sri Lankans have repeatedly voted for the prevailing regime at elections in the post-war period. "I think there is a need for dialogue and there is a need for leadership," she replied. "And there is a need for the media to be able to convey in clear terms perspectives of all side."
"I will note that there is decreasing space for media to be able to provide those perspectives," she concluded." That will certainly influence the climate in the country and I would hope that can be reversed