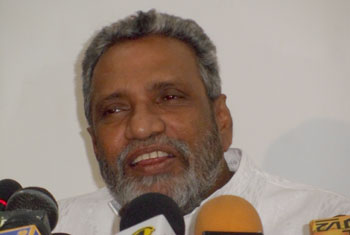 Polls chief Mahinda Deshapriya has intervened to guarantee the confidentiality of voters' identity following threats that they would be under surveillance within polling booths, hence their preference could be established.
Deshapriya rejected claims that hidden cameras would be allowed in polling booths to identify those voting for a particular party. Addressing the final media briefing, at the Elections Secretariat, Rajagiriya, yesterday, Deshapriya warned his staff would confiscate camera phones in case voters used them within polling booths.

A despicable attempt was being made to pressure the electorate at the expense of people exercising their democratic right, the outspoken official said. "Whatever various interested parties say to exploit the electorate, voters can exercise their franchise without having their choice known to a third party. I can give you that guarantee," Deshapriya said.
The blunt speaking polls chief said that voters had been also warned of dire consequences depending on the result of a particular electorate. Having discussed the situation, the Election Secretariat had decided to do away with the practice of counting the ballots of a particular area together, Deshapriya said. "Now, a particular counting center will receive ballot boxes from different areas within an electorate. That'll prevent a particular village being identified with a political party. Instead, we will issue the final result at electorate level."
Asked what would be his message to the electorate on the eve of the Northern, Central and North-Western PC polls, Deshapriya stressed the importance of the voters exercising their franchise. He urged people to cast their votes as early as possible. When queried whether he intended to discuss the new counting procedure with political parties, a smiling Deshapriya said that it was finalised on Sept. 13 at a discussion attended by General Secretaries of political parties. Deshapriya lamented that had new counting procedures been agreed upon earlier, it could have been implemented in all three provinces. Instead, it would be implemented in selected areas, Deshapriya said, adding that the new mechanism could be implemented fully at the next election.
Deshapriya pointed out that as Western and Southern PC polls would be next, followed by another
important election, new counting procedures could be employed to ensure a level playing field
By Shamindra Ferdinando.IS