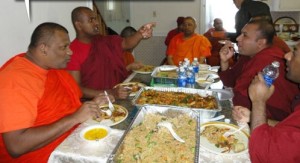 Gnanasara Thera on the left having meals during the US tour
General Secretary of the Bodu Bala Sena (BBS), Ven. Galagoda Aththe Gnanasara Thera, confirmed that he and certain other members of the movement had met with some of the members of the Tamil Diaspora in the US and the meeting was initiated by a Norwegian well-wisher.

The Thera also said the movement's US tour had taken place with the blessings of the Ministry of Defence and Urban Planning.
Commenting further on the movement's US tour, the Thera said they came across many patriotic Sri Lankans in the US and they expressed their support to the development activities taking place in the country with the support of the Tamil brethren.
He also said BBS undertook the tour to have fruitful discussions with the Lankan Diaspora there.
The Thera expressed regret that their good intentions have been misinterpreted by certain irresponsible persons saying the movement obtained money from Norwegians, which he assured, is incorrect.
By Rashini Mendis
CT