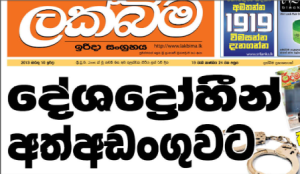 The Lakbima Newspaper quoting internal government sources reports that there is an attempt to arrest the five TNA MP's including NGO activists currently in Geneva assisting USA and European Union countries against Sri Lanka by making public statements harming the unitary state of the country.

The report further states 'according to the Sixth Amendment of the constitution, No person shall, directly or indirectly, in or outside Sri Lanka, support, espouse, promote, finance, encourage or advocate the establishment of a separate State within the territory of Sri Lanka, and is considered a crime.
If such an accusation is proved in Court, if the person is an MP, his term of office will cease for a period not exceeding seven years according to the law.
The Government is obtaining legal advice on this matter, the sources reveal.
When a front- line Minister was queried on this issue, he said that although the right for a person to go to any country and speak freely has been guaranteed by the constitution no individual has the legal power or right to make any statement which would harm the unitary state of the country.
Accordingly, all the statements by the TNA MP's, including the activists who have gone to Geneva are being subject to the intense scrutiny of the Governments intelligence section.'
LK