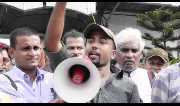 Protest against Nimalruban killing
The Attorney General yesterday filed a motion informing the Supreme Court that the body of Ganeshan Nimala Ruban would be released to his parents on July 23, 2012.

Deputy Solicitor General Shavindra Fernando said in the motion that the Attorney General had directed the police to release the body subject to a Magisterial order.
The body of the deceased is lying at the Ragama Hospital mortuary. Ruban, an inmate of the Vavuniya Prison, was transferred to the Mahara Prison on June 30, 2012, subsequent to prison riots at Vauniya. He died at the Ragama Hospital.
The police were instructed to make way for the funeral arrangements at Vavuniya, subject to a Magisterial order.
The parents of the 26-year-old deceased had earlier filed a fundamental rights violation application against his arrest by the CID, and his subsequent detention in the Vavuniya prison.
By Chitra Weerarathne
IS