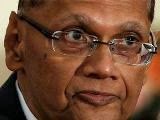 Peiris
Alleging that the issue of accountability was being used as a political tool to undermine post-war Sri Lanka, External Affairs Minister, Prof. G.L. Peiris on Tuesday revealed how some member states of the Geneva-based United Nations Human Rights Council (UNHRC) were being blackmailed into voting against Sri Lanka at the forthcoming session or face the consequences. Prof. Peiris quoted senior representatives of member states as having told him that they didn't have any appetite for the Geneva move.
The minister was addressing a distinguished gathering including the diplomatic corps at the Lakshman Kadirgamar Institute for International Relations and Strategic Studies (LKIIRSS) following the launch of the book '1975-2014' Sri Lanka.
The 25th sessions of UNHRC begins next week.
The US recently announced that it would move its third resolution against Sri Lanka since the conclusion of the conflict in May 2009.
The US moved two successful resolutions in 2012 and 2013.
US Ambassador Michele J. Sisson, who left Colombo on some personal matter, is believed to have been campaigning against Sri Lanka in New York to secure support for the resolution.
Prof. Peiris acknowledged the difficulties experienced by the countries having defence agreements with the US as well as others dependent on its financial assistance. Without naming countries, Prof. Peiris said that he had been told by some member states of their predicament due to unwarranted pressure exerted by those moving the resolution.
The UNHRC consists of 47 countries divided into five separate groups.
Giving several examples of Western projects leading to regime changes in several countries, Prof. Peiris explained how countries suffered due to external interventions.
The minister recalled the circumstances under which the British had launched an offensive to bring the Kandyan Kingdom under their control. The minister highlighted the British defending their action in directives given by the then administration.
The minister emphasised that Sri Lanka wouldn't accept anything inimical to the country's interest in paving the way for an understanding with those moving the resolution.
Referring to the recent cancellation of Afghan President
Hamid Karzai scheduled two-day visit to Colombo, Prof. Peiris said that many countries still experienced the horrors of conflict though Sri Lanka restored peace in May 2009.
by Shamindra Ferdinando
The Island