Moments after he delivered a ground-breaking speech before the UN Human Rights Council in Geneva on Monday (14), Foreign Minister Mangala Samaraweera told the Daily FT in an interview outside the Council chamber that he was "committed to the hilt" to deliver justice to victims in Sri Lanka.
Addressing the opening session of the Human Rights Council's 30th Session, the Minister unveiled an ambitious Government plan for transitional justice, laying out the first tangible framework to address serious allegations of war time abuses Sri Lanka has committed to before the international community since the end of the war.
The Minister, himself a crusader against enforced disappearances and State oppression during the 1980s, says the Government must now tackle the hardest part of its reconciliation program by addressing accountability, but insists the process is crucial to Sri Lanka's post-war healing and to restore the image of the country's armed forces whose reputation is under a cloud.
"Our Army has been one of the most respected, disciplined armies in South Asia, until these recent allegations. Unfortunately, due to the machinations of those in power they may have had to follow some unsavoury orders, but the only way we can restore the image of the military is by identifying some of the miscreants and dealing with them," Minister Samaraweera said in the interview.
The Foreign Minister told Daily FT the Government hopes to get the mechanism off the ground within a year or 18 months, and expressed hope that moderate elements of the Tamil community will back their efforts.
Following are excerpts:
By Dharisha Bastians in Geneva.
Q: How soon do you hope to see a first draft on the US resolution on Sri Lanka?
A: Hopefully tomorrow (15). I was told we may get a draft of it to Delhi. They have to first discuss it with their core group before they draft the resolution. I think they are supposed to be meeting and they promised to send us an initial draft, but what they also say is that here all the drafts keep changing. But if they send it us in Delhi we can also get an idea. On 24 September they hope to table it at the Council.
Q: Are you essentially hoping for an endorsement of the accountability framework the Government just presented to the Council in that resolution?
A: Even the UN report is not actually a problem for us, because many of the recommendations which they have put forward were in keeping with the direction the Government was already working on. As I mentioned in the speech, the mechanisms we are proposing have not been devised because of any international pressure but because we believe we need to set up these institutions for the sake of our country. It's in Sri Lanka's interest and not because of any outside pressure that we have proposed this. Therefore, we are hoping that the proposals we have also put forward will help us to synchronise international as well as Sri Lankan needs. Because of the incredible amount of goodwill that is existing among all parties I think that will be possible.
Q: Supposing the language of the resolution ultimately tabled holds stronger suggestions for International participation in the accountability process, will the Government be amenable to that?
A: We are open to all ideas. But finally all of it has to be done within the contours of the Constitution and it must get the approval of the Parliament of Sri Lanka. So we will be talking to them on how to find a point of convergence. If there are some differences on our respective approaches, a point of convergence can be easily discussed and arrived at.
I think where we are is a major step forward. Had there been such a change in the thinking and our relationship with the United Nations and others, the situation today would have been very different.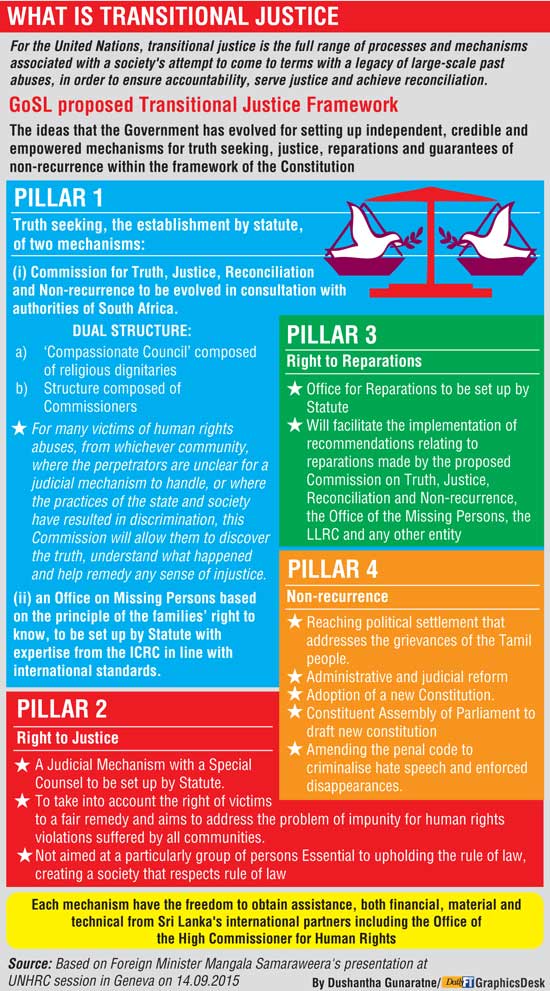 Q: In your consultations here what's the sense you're getting about the international community's willingness to give Sri Lanka time and space to work on reconciliation and accountability?
A: I think all the stakeholders are convinced of the Sri Lankan Government's sincerity in wanting to take forward the reconciliation process in a serious manner acceptable to all parties. And none of this is final. We will begin formal consultations with all parties concerned in Sri Lanka from October 2015 to January 2016.
Q: But how soon do you envision this accountability mechanism taking shape?
A: Not long. We would like to see it established within a year or 18 months if possible. Again it is for the benefit of Sri Lanka that we put these institutions in palace and all these mechanisms in place as soon as possible.
Q: Is the resolution and matters at the Human Rights Council going to come up during your visit to Delhi?
A: We may brief them. But there will be other items. Sri Lanka can't constantly get bogged down on HRC issues. We have to look at trade and investment and the economy. The world awaits us.
Q: Do you feel you will have the TNA's support in implementing these proposals for accountability?
A: The TNA is a moderate party and the moderate elements within the Tamil community realise the constraints we may be having, but also appreciate that we are willing to go further than most other Governments were willing to go before. That is being greatly appreciated and that is why I said in my speech, 'don't judge us by the mistakes, shortcomings, U-turns of the past.' We are different. We are a new Government and we are not just grandstanding slogans. We mean what we say and have the courage of our convictions to do what we say.
Q: Personally you have been a human rights crusader since the 1980s against enforced disappearances and state repression. How committed are you to delivering justice to victims in Sri Lanka?
A: I am committed to the hilt. And more important is the commitment of the President and the Prime Minister. And I know them to be committed to the hilt and fully supportive of this process. That is good news for Sri Lanka. We have a Government that is committed to this not only through words but action, and in this short period we have proven it. We have done many things other Governments were not even willing to touch before. A lot more to do.
Q: Yes, the most difficult part left to do, in addressing accountability.
A: Yes. But that again has to be done if we are to salvage the reputation of our army which has been one of the most respected, disciplined armies in South Asia, until these recent allegations. We have one of the best armies. Unfortunately, due to the machinations of those in power they may have had to follow some unsavoury orders, but the only way we can restore the image of the military is by identifying some of the miscreants and dealing with them.
FT http://www.ft.lk/article/471161/Accountability-framework-for-Lanka-s-own-sake–Mangala #sthash.q5QnH5pI.dpuf