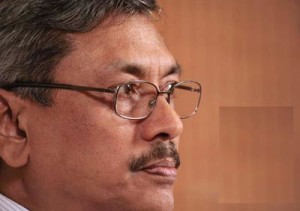 Gotabhaya Rajapaksha controls state intelligence agencies
The strike of university academics is an indirect plot to engineer a regime change. It is similar to what happened in Indonesia where the Suharto's government was ousted, State Intelligence Service reports said.
At the executive meetings of the Federation of University Teachers' Association (FUTA), priority is given to demands that would place the government in economic difficulty rather than discussing their genuine requirements. These are the same tactics followed by the Indonesian rebels that eventually led to Suharto's ouster in 1998, sources said.

"The government of President Mahinda Rajapaksa obtained a massive vote base which no party has obtained. Hence, the latest strategy is to weaken the President and government through large scale protests.
"This way, they plan to effect a regime change as in Indonesia," sources said.
One academic directly mentioned that they should do anything to defeat President Rajapaksa.
According to state intelligence service sources some powerful persons have also agreed assistance to make FUTA's project a success.
FUTA has presented number of demands to the government and these demands are not implemented in any university throughout the world. They are requesting a rental fee for houses while attending to universities from their own homes and special allowance for two children to study in private schools. But they are always talking against private universities as well.
These things are shameless and unfair, Higher Education Minister S B Dissanayake said.
Sri Lanka has allocated a huge sum for the education sector more than in other countries. It is 1.87 percent out of the GDP but lecturers are requesting a six percent allocation which is untenable, the minister said.
Most lecturers have understood that these demands are unfair, he said
Samanmalee Priyashanthi and Ridma Dissanayake
CDN ( Ceylon Daily News is state controlled English Daily)