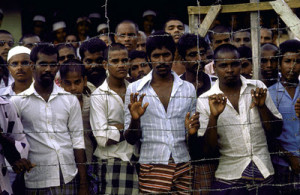 Tamil

Detainees

in Boosa camp ( file photo)
44 persons out of 47 persons arrested previously at Jaffna and Kilinochchi districts have been detained at Booza detention camp. This information was notified by Human Rights Jaffna Regional Coordinator T.Kanagaraj.
Due to the unforeseen incidents occurred at Jaffna campus on last November 27th; four Jaffna university students including many were continuously arrested by terrorism prevention police.

Complains were made by the arrested persons relations to the Sri Lanka Human Rights Commission's Jaffna Regional branch, regarding the arrest of 46 persons from Jaffna last December month by the terrorism police,.
A complaint was recorded two days back concerning the arrest of a person at Kilinochchi. Already 47 complaints are recorded at the Human Rights Commission.
Out of this, two complaints are regarding the arrest of Jaffna university students. Remaining 45 persons, one person is from Vavuniya and others are detained at Booza camp.
Regional Coordinator informed the name and other details of those detained at the Booza detention camp had been forwarded to Human Rights Commission.

OU