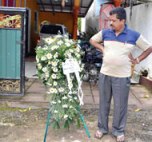 Death threat to Jayalal
A wreath carrying a letter, containing a death threat, had been placed in front of Ceylon Electricity Board Joint Trade Union Alliance convener Ranjan Jayalal's residence.Jayalal had complained about it to the Aturugiriya police.
In his complaint, he has stated that he suspected that it had been done by a group with the intention of scaring him and sabotaging the ongoing trade union action of the CEB unions.

The letter attached to the wreath said "the death of CEB would be your death too," he said.
The wreath, placed in front of his residence at Janatha Mawatha in Aturugiriya, was first noticed by a neighbor and he had informed Jayalal.
Jayalal said that he had received two phone calls threatening him with death on April 9 and May 25 and he had complained to the police with the numbers from which he had received those threats.
He said that he would not be terrified into submission by such moves and the strike would continue until their demands were granted.
By Anton Fernando
IS