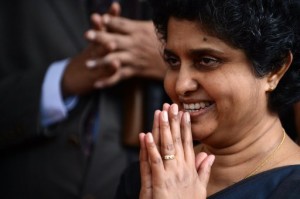 CJ Shirani Bandaranayake
We, the undersigned note with extreme concern, the proceedings related to the impeachment hearing of the first woman Chief Justice Dr. Shirani Banadaranayake by the Parliamentary Select Committee (PSC). Any hearing, regardless of the person, must adhere to principles of natural justice and rule of law. In the case of the Chief Justice all those norms and practices have been violated.

On 6th December 2012, when she appeared before the PSC, its members have used abusive and derogatory language tantamount to sexual harassment. It is reported that at various stages of the proceedings of the PSC two members have hurled abuse at the CJ. The harassment experienced by her was so traumatic that she was made to walk out of the proceedings.
Furthermore, responsible Ministers of the government and the state media have continued to engage in character assassination of the Chief Justice, since the commencement of the impeachment process. The sad fact is that she is the target of this type of slander, only because she is a woman.
Indeed, the Chief Justice is not the only victim of such degenerative sexism. Electronic and print media have continued to report vulgar and sexist statements being made against women parliamentarians, women Ministers and women activists. One example is where the Hon Kumara Welgama made sexist comments on Hon Rosie Senanayake. Hon Mervyn Silva continues to use vulgar language regarding the Chief Justice in his public pronouncements. Women who hold public positions have been called vagrants, mad women and allegations are made on their sexual conduct. This reflects institutional sexism in the political system.
Such appalling behaviour of politicians contributes an environment of spiraling violence against women and girls in our society.
We wish to remind the Sri Lankan government of its international obligations under CEDAW(Convention on the Elimination of all forms of Discrimination against Women) ratified by the government in 1981.
We vehemently condemn the use of vulgar, sexist and derogatory expressions by politicians and state media against the Chief Justice Dr Shirani Banadaranaike especially during the conduct of proceedings and also at other fora outside of the proceedings.
Sgd:
Ms Shanthini Sachithanadam – Viluthu Organisation
Ms Visaka Tillekerathna – Justice for Victims.
Dr Nimalka Fernando – Women's Political Academy (Sri Lanka)
Dr Sepalika Kottegoda – Women and Media Collective Ms Selvi Sachithanandam – Poornam Foundation Ms Padmini Weerasooriya – Mothers and Daughters of Lanka Ms Saroja Sivachandran – Centre for Women and Development Ms Sherine Xavier – Home for Human Rights
Ms Sriya Ahangama – Women's Centre
Ms Samanmalie – Dabindu Collective
Ms Visaka Dharmadasa – Women Affected by War
Ms Sunila Abeysekera – INFORM
Dr Paikiasothy Saravanamutt – Centre for Policy Alternative
Individual Activists:
Ms Janakie Senevirathne, Ms Anberiya Hanifa, Ms Chulani Kodikara, Sr Helen Fernando, Sr Angela Fernando, Ms Leela Issac, Ms Priyadarshini Ariyaratne, Ms Madhu Dissanaike, Ms Anoma Rajakaruna, Ms Chandini Rajaratnam, Mr C.J Weliamuna, Ms Rane Rathnayake, Ms Dorren Fernando, Mr Hans Billimoira, Ms Chandini Rajaratnam, Ms Sonali Gunasekera, Mr Ranjith Cabral, Ms. Seetha Ranjani and Mr Mahim Mendis