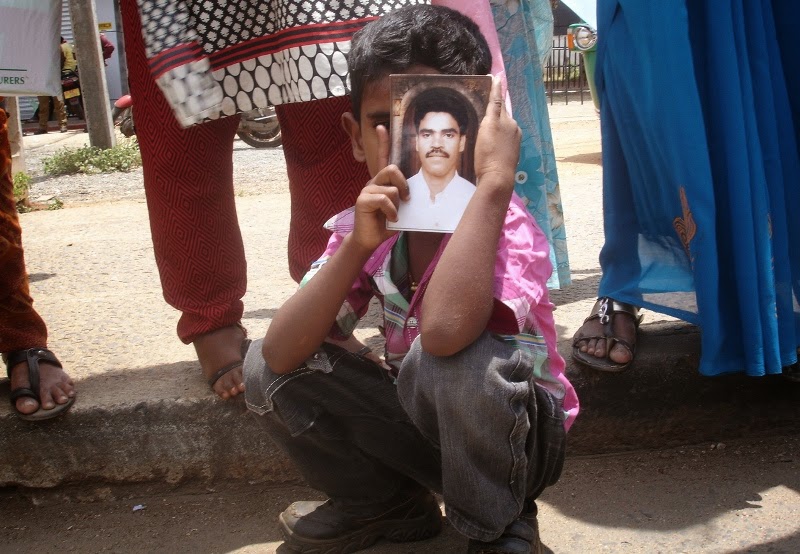 Tamils protest arrests and disappearances ( photo: SLB source)
Associated Press / KRISHAN FRANCIS
A Sri Lankan women's rights group said Wednesday that the government is arresting innocent female relatives of males it suspects are trying to revive the Tamil Tiger rebel group and the women are suffering from ill treatment. Women's Action Network described the cases of six women it says were arrested from the north and east, the former civil war zone, because authorities suspect their male associates or family members have rebel links. The group's statement said the Criminal Investigation Department has detained the women in inhuman conditions as some are elderly or need medical and psychiatric care but are being denied those facilities.
Sri Lanka's government claims that the defeated Tamil Tigers are trying to regroup and that it is taking preventive measures.
However, ethnic Tamil politicians say that the government's claim that the Tigers are regrouping is false and an excuse to maintain a high military presence and keep the people in fear.
Police spokesman Ajith Rohana said the women were detained for offenses under the Prevention of Terrorism Act like harboring terrorist suspects. He said he will check on allegations of medical care being denied to the detainees.
Police and the military resumed cordon and search operations similar to the ones during the war to catch a person they identified as "Gopi" said to be the new leader of the Tamil Tigers. The women's network said police arrested five women for alleged links to Gopi.
Sharmila Gajeepan, 26, was pregnant when authorities arrested her insisting her to be the wife of Gopi, which she denies. She suffered a miscarriage while being questioned and she was not only denied medical care but on that same night transported by train to a detention center nearly 100 kilometers away, the statement said.
Police are also holding her 63-year-old mother-in-law and an elderly woman who is her helper, the statement said.
Balendran Jeyakumari, a leading activist in the effort to find missing people from the civil war, has been detained on charges that she harbored Gopi at her home. Jeyakumari's 13-year-old daughter, who was arrested with her, is in the custody of childcare officials.
Human rights groups have called Jeyakumari's arrest an attempt to intimidate activists into silence. A government book published a photograph of Jeyakumari's 15-year-old son being held in military custody, but authorities have denied any knowledge of him.
One detainee is accused of being a lover of Gopi. Another is a 61-year-old woman whose sons work abroad and sent her substantial sums of money regularly, the group said. Sri Lanka's government says expatriate Tamils could be sending money for terrorist activities.
"It doesn't appear that the officers treat these women as human beings. Officials transporting by train a woman, who on the same day had suffered a miscarriage without any medical help, is distressing," the statement written in Tamil language said.
"Post-war the government is boastful about its achievements on women's rights and celebrates the Women's Day with much fanfare. But such degrading treatment of women is unacceptable."
Sri Lanka's military crushed the Tamil rebels in May 2009, ending a quarter-century separatist campaign.
According to a United Nations report some 40,000 ethnic Tamil civilians were killed in just the final months of the fighting.
The U.N Human Rights Council last month authorized an investigation into crimes committed by both sides in the civil war.