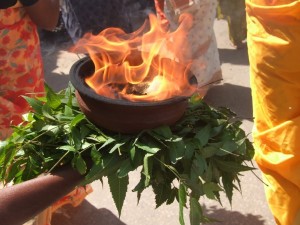 Women walk with burning camphor pots through the busiest business streets'
Text and pix by Dushiyanthini Kanagasabapathipillai
Women, whose fathers, brothers, husbands and sons have been disappeared over the past years, took part in a religious protest recently in Colombo.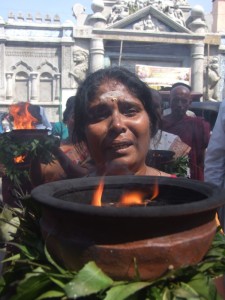 "Our one and only brother went missing from
Dehiwala in 2008. We are seven sisiter and
he is our youngest brother" ~ Vijayalakshmi Sabesan
Nearly 25 women from Batticaloa, Colombo, Jaffna, Kilinochchi, Mullaithivu and Trincomalee carried burning camphor pots from Sri Ponnambalawaneswarar temple in Kochchikade to Jeyanthi Nagar Sri Sivasubramaniya Swamy Temple in Ginthupitty on barefoot during a balmy day, while chanting religious hymns and crying.
"We need to know what happened to our loved ones; we feel lifeless without our fathers, brothers, husbands and sons; we are unable to move on without knowing anything about our loved ones" protesters prayed and pleaded.
Camphor flame carried single handely by a Tamil woman who is in search of her son
The burning camphor pot carrying protest was jointly organized by the Committee for Investigating Disappearances (CID), and Movement for the Release of Political Prisoners (MRPP) to remember the disappeared.
– DBS