High-handed army action claims at least six lives; journalists warned not to take pictures and attacked

DSCF8789
Power of the people that soon turned to power of the police and Army. Pix by Mangala Weerasekera and Indika Handuwala
Weliweriya, a small peaceful town barely an hour's drive from Colombo, resembled a war-torn area yesterday.
Traffic moved but heavily armed Army and Police personnel patrolled the streets. There were hardly any people moving around. Shops remained closed. Shattered glass from homes and shops remained strewn on the road. There were even shoes and slippers.
That told the story of a protest by some 6,000 residents on Thursday. They were demanding clean water. This was after complaints that a glove factory was pouring chemical effluents on the ground polluting their only source of water, their wells in the area. Instead, they were forced to face a barrage of bullets. The Army opened fire on them.
The factory belonging to Dipped Products Ltd, a subsidiary of Hayleys Group, is located at Nedungamuwa, just three kilometres away from the Weliwveriya town. The villagers were largely from hamlets that surrounded Nedungamuwa and complained that their well water contained unknown chemicals.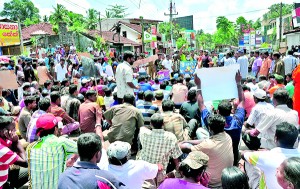 DSC_0070
Though for several weeks the villagers have been demanding Government action against the factory, and clean water for them, the latest protest had begun only on Tuesday. On its third day (Thursday) around 11 a.m. a crowd of some 500 persons had assembled on one side of the road at Weliweriya town, according to Ven. Weliweriye Rathanasiri Thera. "We were demanding clean water and insisted that we will not leave the area until it was assured. We were drinking contaminated water. We wanted to continue our protest even if we are killed," he told the Sunday Times.
By afternoon, those assembled were told by some of their colleagues who went to the Magistrate Courts in Gampaha that a case filed against the company had been put off until August 22. The crowds began to swell and events that followed became unruly. They blocked the Miriswatte (the road that connect to the Colombo Kandy highway), and Weliweriya by late afternoon. (See map on this page). They were only allowing school vans and ambulances to pass through.
As the crowd built up, reports by a state intelligence arm that some former Janatha Vimukthi Peramuna (JVP) supporters were behind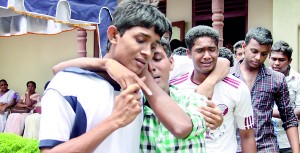 IMG_7876
Tears for a colleague: Akila's friends
the agitation caused concern for the UPFA leadership. However, JVP leader Somawansa Amerasinghe denied involvement by either present or former cadres. His remarks appear in our political commentary on Pages 15 and 16 today. As more reports of a crowd buildup reached the authorities, a 400-strong squad of Army personnel equipped with assault rifles and anti-riot gear was rushed to the scene.
Seated on the olive green painted bonnet of his Defender Jeep, a Brigadier made a short speech. He said: "We know you have a problem. We cannot give magic solutions to your problems. The courts will decide on it. Until then you may have to stay patient. I will give you five minutes to disperse or otherwise I will push you away." The Brigadier later addressed the media personnel present. He said "Do not try to photograph or video when we disperse the crowds. If you do that, we will smash your cameras."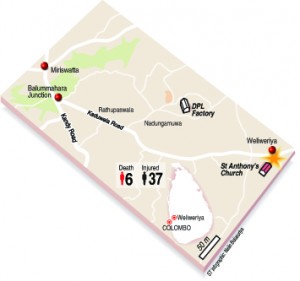 Print
A while later the power supply went off. A Police official at the scene said that was to disable any surveillance cameras that may be installed in nearby buildings. Then all hell broke loose. Army personnel, some of them with their faces covered with black cloth and dressed fully in anti-riot gear, a new acquisition, began assaulting those present. The protestors began running helter-skelter. Immediately thereafter, gunfire sundered the air.
"I was hiding in one of the buildings. People came running. They were screaming saying that the Army was beating them. I heard gunshots and cries of women. They were carrying rifles and poles," 35-year-old Puthra (Real name withheld to ensure his safety) from the village of Weragama said.
Added Weliweriya resident Wasantha (also name withheld) who had taken cover at the Weliveriya St Anthony's Church. "Those inside were badly beaten. Blood was spilt there," he said. "I got hit by the butt of a rifle," he added.
He alleged that when the sister in the church locked some of the protestors in a room, a soldier placed his rifle at her chest. She pleaded with them not to harm anyone. One of the soldiers shouted "kawda umbalawa deng balaganney. Api kotith paradduwa. Umbala vedak nehe. (Who is there to look after you now? We defeated the Tigers. You are of no use)."
Anusha (real name withheld to ensure her safety), who lives at Helen Waththa Road, Weliweriya, said she saw troops with clubs chasing a group of women. "Though it was a little dark, I could see blood oozing out of a woman's head. This is the most horrible experience in my life," she said.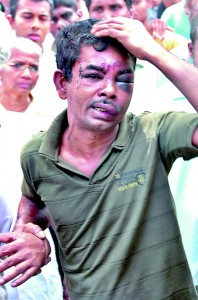 DSC_0104
A villager who was badly beaten up
A soldier attacked a photo journalist Shanuka Kulasekera of the Adha newspaper published by the Wijeya Group and threw his camera away. He was hospitalised and was discharged yesterday. His camera has been badly damaged. Deepa Adhikari, a correspondent for our sister newspaper Lankadeepa tells the ordeal she went through in a box story on this page.
Military Spokesperson Ruwan Wanigasuriya said an organised group in the crowd aggravated the situation when the villagers were ready to disperse. He said the Army offered assistance to the Police to disperse the crowd who were blocking the Colombo-Kandy highway. Several ambulances and people travelling to the Katunayake Airport were held up. Hence, the Army had to clear the road, he said.
"We are carrying out an investigation to find out why journalists were attacked," he said.
The Colombo Crime Division of the Police is conducting a separate inquiry into the incidents. The CCD yesterday obtained a Court order to take possession of unedited video footage of the Weliveriya incidents from television stations.
When the melee ended, at least one person was officially pronounced dead. However, Vijitha Herath, Gamapaha District MP for the Janatha Vimukthi Peramuna told a news conference on Friday "we are aware that there have been four deaths due to the shooting."
The death toll reached at least six by last night, The Sunday Times learnt. The injured have been taken to Colombo National Hospital, Ragama Teaching Hospital, Gampaha Hospital, Radawana Rural Hospital and the Wathupitiwela Hospital.
At the National Hospital in Colombo doctors said eight were in a critical condition. Two others including a 16 year old boy were being treated at the Neuro Surgical ICU (Neuro Trauma Unit). Both are said to have bullet injuries in the head.
At the Gampaha Hospital, police sources said, nine people with bullet injuries and two assault victims were warded. One of them was in the Intensive Care Unit in a critical condition. Two persons had died at this hospital. Most of the injured had been transported there in military vehicles.
Seven victims have also been admitted to the Wathupitiwela Hospital with gunshot injuries, doctors said. Three among them were transferred to the Colombo National Hospital as they were in a serious condition. Four of the victims are being treated at the surgical wards, they said.
Nine people were admitted to the Radawana Rural Hospital. Seven of them with bullet injuries were later transferred to the Wathupitiwela Hospital.
Herath said if the Government acted on the representations made by the villagers well in advance, lives could have been saved. He said that the use of the Army to quell this incident should be roundly condemned. Doctors at Colombo National Hospital said three bodies of those killed in Weliweriya firing had been transferred to Gampaha.
The media was debarred on Friday from covering the Magisterial Inquiry into the death of the only known victim, 17-year-old Akila Dinesh. They were also debarred by Police and Army patrols from visiting the Weliweriya area. Their actions received strong condemnation from the Free Media Movement.
Mother wails loss of her only child"My husband had left me. I had only my 17-year-old son Akila Dinesh to look after me. He has also been taken away from me now," lamented Priyangani Shiromi Jayawardena.
The 34-year-old mother of the young boy killed during the Army firing at Weliweriya on Thursday, worked in the Export Processing Zone at Katunayake. That fateful day, she was due home at 6 p.m. In view of the commotion, Akila had come in a threewheeler with a friend to pick her up.
They were returning home when Akila was hit by a bullet and fell by the wayside. The commotion was so intense his mother did not know until she returned home. "I looked for Akila. He was not there. The next morning I went to the Police Station and they directed me to the hospital. There I found my son in the mortuary, a wailing Ms. Jayawardena said.
"He is a very talented child. He always wanted to help everyone around him. There is no justice in this country. Only the innocents suffer," declared Akila's grandmother Manel. Akila was a student of Chandrajothi Vidyalaya, Yakkala and was preparing for his GCE (Advanced Level) examination when his life was smoked out.
Eyewitness account of journalist who was injured
Lankadeepa Correspondent Deepa Adikari recounted her experience on Black Thursday at Weliveriya. This is her account.
"We were on top of a building covering the protest when we saw a group of soldiers coming and observing us. As we felt that there was something amiss we asked the villagers to take our cameras and run in case the soldiers tried to catch us. It happened just as we suspected," she said.
"One of the soldiers said it was the media that aggravates everything. Saying this we were taken to a side. It was then that the people started to cry out," she said.
"Then soldiers each carrying his weapon and a wooden pole (some plucked out from fences) started to hit everyone including women," our correspondent said.
She said since it was a problem that affected almost all the villagers the people had gathered there even with their children. "The people started to retaliate. The soldiers hit back with wooden poles, fired shots and finally used tear gas," she said adding that some soldiers had their faces covered with a cloth.
There were around 6,000 villagers at the protest and according to our correspondent around 400 soldiers came to disperse them. " I suffered an injury to my forehead. As a soldier attempted to grab my camera I dropped it on the ground so that a villager could take it and escape," she said.
"I ran into a house and escaped and later received OPD treatment for my injury," our correspondent said.

By Aanya Wipulasena in Weliweriya
ST