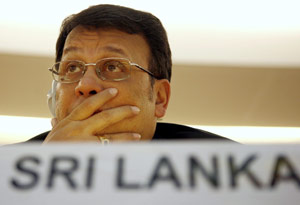 Minister Samarasinhghe – no HR ministry
The Universal Periodic Review has come, and gone, and as usual there seems to be general satisfaction in Sri Lanka as to how it went. I have no doubt that the generally excellent team sent from Sri Lanka performed well, and gave sensible answers to the questions raised.
What is sad, though, is that the Review seems to have become an end in itself. Some of the blame for this should go to a few organizations who see this as a chance to attack Sri Lanka, whereas the original conception of the UPR was that it would provide an opportunity for all stakeholders to work together to improve the Human Rights situation in the country under review.

It is in that spirit that Sri Lanka should approach the Review, and this was what I thought happened last time round, in 2008. On that occasion we made a number of voluntary pledges, and then accepted several of the recommendations made by other countries. I believe that was done sincerely, and certainly we made a great effort to move on many matters, ranging from formulation of a National Action Plan and a Bill or Rights, to training for the Police, and of course the fantastic effort we made with regard to resettlement of the displaced.
Basic facilities
However several matters fell by the wayside. A good reason for this – though it should have spurred us to greater efforts after the emergency situation had passed – was the continuation of the conflict and the problems caused by the large numbers the Tigers had held hostage, who had to be rescued and nursed back to health, and resettled with basic facilities. A not so good reason was the abolishment of a dedicated Ministry for Human Rights. As a result the pledges made could not be pursued consistently.
I am not sure of the reasons for this fateful omission. I was told that Human Rights would be looked after by the Foreign Ministry, but this did not happen, and the Secretary to that Ministry told me categorically that the Ministry did not have the capacity to take on the responsibility. He said that it could deal with the international dimension, but even this did not happen. Whereas previously we had responded promptly to any communication from UN special procedures in Geneva, after 2010 many queries were left unanswered. The Secretary, indeed, told me he thought replied had been sent, but the officers who had moved from our Ministry to the Foreign Ministry, and found little support there, told me nothing had been done. This is reflected in the reports on Sri Lanka that have been presented since by mandate holders such as the Working Group on Involuntary Disappearances.
Thus we find that, amongst the questions posed to us this time round, by the United Kingdom, is one about investigation of the 5.653 open cases on record. Not having looked at the statistics recently, I cannot be sure, but I believe many of these relate to the 90s, and that there have not been many additions to the record in recent years. I would also think that these additions relate to the period of conflict, and not the last couple of years. But, whatever the situation, we should clarify the position, and investigate recent cases.
Defence mechanisms
With regard to the individual cases of recent years, we should ask the police to expedite action, and issue regular updates. And, for disappearances during the last phase of the conflict, we should, as enjoined also by the LLRC, set in place thorough mechanisms to collate information and provide closure where possible to the bereaved.
Unfortunately, perhaps understandably given the many unfair charges flung at us, we see the problem as one which requires defence mechanisms, not increased efforts to get at the truth if possible. As a result, it is assumed that we have something to hide, whereas in most cases it is clear that there was no culpability as far as our forces went for the deaths that occurred.
The assumption that we have something to hide is increased by a lack of precision on our part. The BBC correspondent Charles Haviland has noted, and tweeted, that Minister Samarasinghe says the military court investigating allegations, presumably with regard to disappearances of those who surrendered, has five members and met 30 times, while former Attorney General Mohan Peiris says it has seven members and met 50 times.
Doubtless there is a simple enough explanation for this, but it should be provided, and senior representatives of government should ensure that they have precise knowledge of the facts and share information with each other. We cannot allow ourselves to be irritated by the fact that many so-called stakeholders are more concerned with denigrating Sri Lanka than improving our Human Rights situation. The bottom line is that people have died or disappeared, and it is our responsibility to address the grief of those who have been bereaved, assuage it as possible, and ensure closure with regard to the uncertainties that the war engendered.
It is in that spirit of responsibility that I hope we will build on whatever occurred at the UPR. While we must deal firmly with unfair allegations, we must recognize that, as with every other country, there is room for improvement. We should therefore immediately set up a mechanism to fulfil the pledges we have made and implement the recommendations we have accepted.
There is no substitute for this purpose to a dedicated Ministry. Mahinda Samarasinghe has dealt fairly effectively with various challenges in this regard, but it is not fair to expect him to continue to defend a record he has no input into improving. It would also be useful to include implementation of the LLRC Recommendations into the brief of such a Ministry, since they have a close bearing on Human Rights.