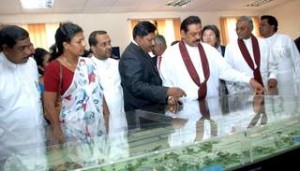 mi73112
Mattala International Airport
by Kath Noble
It's hard to know when to take official statements seriously. The government isn't known for taking the quiet, cautious approach.
Indeed, its spokesmen very often make obviously false claims, such as that Mervyn hasn't done anything wrong or that no civilians were killed during the war. They seem to think the public are idiots.


When it comes to informing people about their plans, they are equally blasé about the difference between fact and fiction. We can never be sure what to believe. Take the proposed reclamation of land at Galle Face. This project sounded most unlikely when it was first announced back in 2010 – why spend so much money raising the seabed to build more luxury hotels and malls when supply already outstrips demand?
Colombo has enough for the number of visitors it gets. But now this mildly ridiculous idea has somehow developed into total lunacy. According to the Chairman of the Ports Authority, speaking at a conference a few weeks ago, the Galle Face reclamation will now include a yachting marina, golf course, centre for water sports and most extraordinarily of all a Formula One racetrack!
There are undoubtedly a handful of people in Sri Lanka who would be delighted if this project were to materialise. The problem is that there are millions of others for whom it would be of absolutely no use.
Consider the Formula One racetrack. Never mind the capital cost of building the racetrack or even the recurrent costs of maintenance and the organisation and security of the three-day event. These are of course massive. But according to reports in the Indian media – Delhi was home to the inaugural Formula One event in India last year – the licence fee alone comes to $200 million. That's more than the annual budget of the Ministry of Higher Education. Do Sri Lankans want to watch a few cars driving round in circles for an hour, or might they prefer to have twice the number of universities? It's a tough one.
And in case anybody was wondering, the Delhi event made a loss. They could fill only two thirds of their seats, despite India's fast growing engagement with motorsports. (India now has a Formula One team.)
If visitors didn't flock to India for the inaugural Formula One event, it is hard to imagine them descending en masse on Colombo to play golf or go jet skiing. There are more attractive parts of Sri Lanka to stay in to be honest, with less traffic and better weather. So the Galle Face reclamation probably isn't going to boost the Sri Lankan economy or create jobs – it will simply consume funds that could have been used for something more productive.
The project is of course going to be carried out by a Chinese company. Who else?
China has been financing more and more infrastructure projects in Sri Lanka in recent years, most obviously in Hambantota, many of them implemented by the China Harbour Engineering Company.
On the plus side, the Chinese don't try to tell Sri Lanka what to do. This makes a refreshing change from agencies like the World Bank, which refuses to lend unless the Government undertakes major reforms to key policies. Want to build a power plant? Tough luck, because they will only give money to the private sector, and then only if the Government promises to buy the electricity these companies generate at inflated prices for decades to come. Meanwhile, tariffs will have to be increased, particularly for home owners, and part of the Electricity Board must be sold off. Some deal! The entire sector has to be transformed for the sake of a few million dollars, which anyway have to be paid back with interest.
China only insists on using its own workforce and materials.
While this is not very good for Sri Lanka either, and the sight of thousands of Chinese labourers wandering around
the otherwise pretty empty countryside of the Hambantota district with their shovels is quite peculiar, it is at least straightforward. The Chinese are looking for markets for their companies and employment for their people. Again unlike the World Bank, China doesn't pretend that it is trying to do Sri Lankans a favour – it is here in its own interest.
It is up to the Government to decide what Sri Lanka needs. That it is now being suggested – after a series of breakdowns – that the Norochcholai coal power plant may be a Chinese cast-off, neither very good quality nor particularly suitable for Sri Lankan conditions, indicates that people are not at all sure that the Government is doing this job properly.
Infrastructure projects are essential for the development of the country, but they can also be a source of little other than debt.
The Greater Hambantota Scheme alone is going to cost Sri Lankans billions of dollars, including to date $360 million for the port and $550 million for its associated tax-free zone (because the Government is already overburdened with the taxes of profit-making companies?), $210 million for an international airport, $15 million for an international convention centre and $9 million for the sports stadium, according to official announcements.
Anybody who has visited the area since work started in 2008 cannot have failed to marvel at how out of place these huge structures appear, surrounded as they are by miles and miles of nothingness – no offence intended to the inhabitants of the Hambantota district. Will they be worth the investment?
In the case of the sports stadium and international convention centre, it is quite clear that the answer is almost certainly no. These are the equivalents of the proposed golf course and water sports centre at Galle Face – while they probably won't generate much in the way of benefits for the economy, at least their cost is measurable in tens rather than hundreds or thousands of millions of dollars. What a sad measure of the 'success' of a project – how much of a failure it is! The number of conferences and cricket matches to which Sri Lanka plays host is not about to leap up exponentially. As we have seen, to make use of these facilities, events have to be diverted from other locations.
Sri Lankans must be hoping that the rather more pricey international airport and port will not turn out the same way.
That the first commercial operation at the Magampura Port took place more than 18 months after its ceremonial opening is hardly a great sign. Even less encouraging is that it involved the transshipment of cars manufactured just 500 nautical miles away in Chennai. One wonders how much if anything the Hyundai Group paid for the pleasure of briefly interrupting their 5,000 nautical mile journey to Africa and Europe – the vehicles were offloaded from one ship on June 6th and put on another on June 17th. It sounded very much like a publicity stunt to make the public believe that all is well. However, given Sri Lanka's position on East-West shipping routes, there is still every reason to hope that Hambantota will attract a decent passing trade in time, at least once the current global downturn has passed.
The problem is that nobody is convinced that there is a coherent strategy behind the Government's enthusiasm for infrastructure development – it all looks a bit hit and miss.
The Government seems to think that announcing grand plans is an easy way of boosting its popularity – the public are supposedly impressed by words rather than deeds, hence the surely crazy talk of a Formula One racetrack on the land to be reclaimed at Galle Face. A minister can then unveil a foundation stone that will immortalise his contribution to the nation for all to marvel at for decades to come, and perhaps also pocket a bribe from a Chinese company.
And by the time the public realise that it was all a ploy, or that it was madness that resulted in a loss to the country of billions of dollars, they will have forgotten who is responsible.
However, things are changing in Sri Lanka. In recent weeks, this newspaper has carried several letters from readers angry at proposals to construct domestic airports in Kandy and Nuwara Eliya. Is this country really big enough, they have asked. Who will fly from Colombo to Kandy, dragging themselves and their luggage through all the formalities of an airport and requiring them to take a taxi both from home to the airport and from the airport to their destination, when it doesn't take more than a few hours by car? Aren't there other priorities in a country like Sri Lanka? (The Government is now pretending that people are worried only about the particular locations it had selected, but this is of course nonsense.)
Similar concerns have also been raised with regard to the network of expressways that are already under construction. I, too, enjoyed the smooth one hour ride to Galle soon after the much-delayed opening of the Southern Expressway, but I didn't see very many other people enjoying it – they were still travelling by bus on the free coast road.
It would seem that the public are finally wising up to the need for vigilance. Soon they'll be refusing to vote for liars and criminals, and then Mervyn really will be in trouble.
– DBS