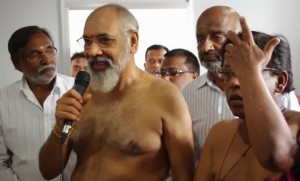 Wigneswaran at Nallur Kovil
Champika says Wigneswaran should be arrested for violating laws
Secretary of the Jathika Hela Urumaya (JHU), Minister Champika Ranawaka, said if the Chief Minister elect of the Northern Province, C.V. Wigneswaran, acts in violation of judicial orders and attempts to call for international intervention in national affairs, he should be arrested by the law enforcement authorities.

He reiterated that Wigneswaran could be dealt with under the existing legal provisions for violation of the law, and the government need not deal with a fascist who is striving to push the country towards war again.
Ranawaka also accused Wigneswaran of trying to incite India and others, to create a war situation in the country, thereby causing immense danger to peace-loving, innocent Tamils, who live in areas such as Mattakkuliya and Wellawatta in the Southern part of the country. Earlier, the Chief Minister elect of the Northern Province, C.V. Wigneswaran, warned if the government does not devolve police and land powers to the Province as stipulated in the 13th Amendment, the Tamil National Alliance (TNA), will mobilize support from the International Community to compel the government to do so. Wigneswaran reiterated that he would first engage the government in discussion, with a view to obtaining the relevant powers through negotiations. However, in the event he fails, he would not hesitate to take measures to win their legitimate rights. "The ball is in the government's court now," he said.
Wigneswaran opined that powers to the Provincial Councils under the 13th Amendment have already been devolved and accused, the government of trying to scuttle them by adopting underhand methods. He warned the government not to tamper with police and land powers being devolved to the Northern Provincial Council (NPC) under 13A, and said they will not hesitate to invite India and the international community to mediate, to obtain their legitimate rights
By RASHINI MENDIS
CT