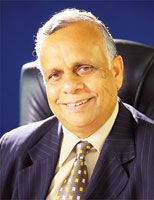 Sri Lanka Customs Director – General Dr Neville Gunawardena, is an Osaka University Doctorate Holder in Environment and Micro Biology and has been in Sri Lanka Customs since 1980 in a career spanning 32 years. He has also served in the World Customs Organisation in Brussels in a three year stint. He was appointed as Director customs in January 2012.
(Lanka-e-News) The SL Director General of Customs, Dr. Neville Gunawardena had been suddenly removed from his post on 2nd Dec 2012. and transferred to the Finance Ministry where he is given a post that is sans important tasks because he had been an obstacle to the illicit arrack businesses of the Rajapakse family, according to reports reaching Lanka e news.

It is a cruel irony that though the Rajapakses are ostensibly promoting and propagating 'Mathata thitha' program to show to the country and the world that they are against liquor consumption, and are twice a month paying homage to Sri Maha Bodhi and hitting their empty heads there as a ritual, they in fact are the leading illicit arrack business magnates in the country.
It is Lakshman Vasantha Perera from Matale who is running this business on behalf of the Rajapakses. There is a hidden director in the Lakshman Vasantha's Co. The name as registered is Leksika Peiris. Her present name is Leksika Rajapakse. She is none other than the daughter in law of Speaker Chamal Rajapakse – the wife of Uva province chief Minister Shavindra. It is after putting her name in front as a shield that the Rajapkse family is conducting this business.
Lanka e news had already highlighted this in a report on October 30th under the caption ' MP sells formalin – urea as arrack- MaRa's commission Rs. 300 million monthly'
It was exposed by us in that article, this adulterated arrack which is formalin and urea is being turned out at a factory situated in Dompe, Palugama area. We revealed that this factory is avoiding the payment of legal taxes amounting to Rs. 800 million, whereas it is making an illegal payment of Rs. 300 million to the Rajapakses as extortion money. This payment has to be delivered compulsorily monthly to Temple Trees, and these are made entirely by cash.
In addition, to manufacture this arrack, they also import the necessary spirits. Mind you , in SL at the moment the highest quantity of spirits are got down for this adulterated arrack illicit business by the Rajapakses. When formalin worth Rs. 2000 million was imported as spirit , and was seized by the Customs Director General , since the Customs is under the purview of the Finance Ministry that belongs to Rajapakse who is also running this illicit arrack factory putting Leksika in front , on the payment of a penalty of Rs. 3 million , the Customs director General was obliged to release the goods to Lakshman Perera himself. Following this illicit import, Rajapakse turned bitter against the Director General of Customs.
Meanwhile, the Rajapakse Govt. issued duty free non transferable import permits for vehicles for Govt. servants. As the LB Finance Co. and LOLC leasing Companies granted leases illegally on these vehicles so got down , the Customs sealed the files of these Companies , and began investigating them. Rajapakse whose concern was for illicit arrack business and the two illegal leasing business magnates come what may, within a night changed the laws and converted the non transferable into transferable permits. On this issue Mahinda Rajapkse fell foul with the Customs Director General who was performing his duties duly.
LB Finance Sumith Adhihetty is a close sidekick of MaRa. He employed notorious China Town Mustaq and sneaked on Dr. Neville Gunawardena to MaRa. The latter who is as unscrupulous and sordid as his sidekick fell into his trap. As a result LB chief who is MaRa's sidekick got what he wanted.
China town Mushtaq is an individual who supplies all requirements of the Rajapakses .The latter too does not wait without heeding what Mushtaq tells. In the circumstances, MaRa , had summoned the Customs Director General and berated him . But what provoked MaRa to go that far as to remove Dr. Neville Gunawardena from the post was based on a different ground.
That is, creating a rival unwittingly for MaRa's illicit arrack business. That rival is no less an individual than the Trade Minister Johnston Fernando. The latter following in the footsteps of his 'Guru' had imported a quantity of illicit spirits , and after clearing through the Customs had via his tavern embarked on the 'Gura's (hora) illegal business .

His Gura Rajapakse was infuriated because he alleges that the Customs chief had helped his rival Golaya ( Johniya) , Johnston to surmount the Customs barriers. Rajapakse Gura therefore decided that the Customs chief should be expelled as he had hit him below the belt in his adulterated illicit arrack business by assisting his underling Johniya (Johnston Fernando) .
As in others so in this case , Rajapakse punished the Director General of Customs who acted duly and lawfully while not punishing the real culprit , his Minister Johniya better known as 'Donkeya'