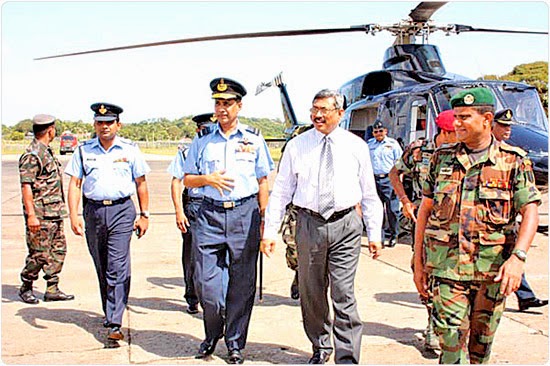 Gotabhaya on a inspection tour
The man who oversaw the Sri Lankan armed forces' operations during the final stages of the war was the President's brother and current Defense Secretary, Gotabaya Rajapaksa ("Gota"). As detailed below, not only was Gota the self-proclaimed mastermind of the military's actions and thus criminally liable under well-settled international rules of command responsibility; there is also prima facie evidence in the public record that he ordered the execution of political leaders and their families upon their surrender, that he directed the systematic bombing of civilian hospitals, and that he repeatedly suggested that he could target and deliberately kill innocent civilians in order to win the war against the LTTE. That's just the public record.
(There is good reason to believe the Justice Department is sitting on a trove of additional incriminating evidence against Gota.)
Why might Americans, in particular, care about Gota?
As a citizen of the United States, Sri Lanka's Defense Secretary is thus directly liable under Congress's War Crimes Act—a legal windfall for any US effort to investigate and prosecute him across international borders. His citizenship also expands US policy space—by reducing US vulnerability to accusations of meddling if we go after one of our own. That's the upside to taking such actions.
Let's turn to the facts in the public record about Gota's alleged crimes.
Did Gota exercise the type of control over the troops that committed those acts? Consider four data points:
You might ask, what happened to Brigadier Silva after the white flag incident? He was promoted to Major General and then appointed Deputy Ambassador to the United Nations in New York.
To be clear, although the above admission applied to a hospital outside the No Fire Zones, the Sri Lankan military shelled hospitals both inside and outside those areas during the last stages of the war.
I imagine some of the members of that UN delegation would be willing to testify against Gota.
The White House successfully led an effort at the UN calling for an international war crimes inquiry, and Congress (through the State and Foreign Operations Appropriations Act) has tightened the screws on Sri Lanka with respect to financial and military cooperation. What specific steps are now open to the United States to enhance these efforts?
The administration should publicly release some of the intelligence that it might have in its possession such as phone intercepts of Gota's orders and satellite imagery of the last stages of the war. In a post-Snowden world, revelation that the United States has these capacities and engages in such SIGINT operations is nothing new. At least the cost is not as high to revealing this information, and its public exposure can be especially valuable in mobilizing efforts toward accountability.
* * *