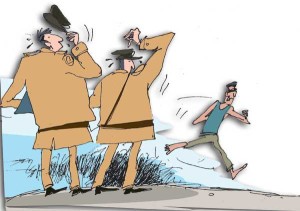 The 'Malaka Silva' affair has been 'the' incident during the last few days with media taking great pains not to miss a wee bit of the drama unfolded—which even Malaka's father, Minister Mervyn Silva said that led to the sale of unsalable newspapers in the country.
But did anybody express his or her surprise at how the events unfolded? How the police had to good-naturedly wait for the surrender of Malaka instead of going after the suspect as in the case of the village rowdy, Kalu Malli?
If anybody dares think that this kind of gross violation of rule of law in the country will have nothing or little to do with the image of the country, they are clearly mistaken. The rule of law and the governance are the most important features of a vibrant democracy.
But in Sri Lanka's case there have been too many Malaka Silvas who have challenged the rule of law in the country and too many transgressors who have mocked good governance. It was reported that as soon as Malaka was taken to remand prison, he had been admitted to the prison hospital!
And also it seems that things will be diverted elsewhere as it was reported that the Army is conducting an investigation against the Army Major who had been allegedly assaulted by Malaka to find out whether he had put a log entry before going to the Hilton hotel where he was attacked!
Meanwhile, Sri Lanka has a higher education minister who is entrusted with the mission of dismantling the country's education system. When the university dons come up with their demands, what he does is gather a set of scavengers in the university system itself who are not mentally and physically healthy to be in it and launch a mudslinging campaign against those lecturers. Not stopping there, the goons of this minister had allegedly damaged the vehicles of the lecturers who came for discussion with the authorities by placing nails under the tyres of their motor vehicles!
At the same time we have a stock market which reminds us of the old adage 'putting a fox in charge of the hencoop'. As media reported, the new Securities and Exchange Commission (SEC) Chairman has a number of 'conflict of interest' cases against him, being the Chairman of a listed firm and closely associated with those who had been under the radar of SEC under the previous Chairman, Tilak Karunaratne.
All in all, every passing minute you inhabit this beautiful island you can't help thinking of the former tag line of Sri Lanka Tourism 'The land like no other'.