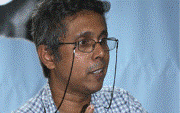 Dr. Devasiri
The area opposite the residence of Dr. Nirmal Ranjith Devasiri, the President of Federation of University Teachers Associations (FUTA), has become a favourite place for white vans to be parked say reports. At times the white vans with several individuals inside them have been parked there for hours.

On two days a group identifying themselves as from the Ministry of defense had gone to Dr. Nirmal Ranjith Devasiri's neighbours' residence and had asked for information regarding Dr. Nirmal. Meanwhile, one person had asked permission to jump over the parapet wall to write down the reg. no. of Dr. Nirmal's car. When the strangers questioned regarding times Dr. Nirmal came home and went out the neighbors had asked why they were asking such questions. At this the group had left.
Dr. Nirmal Ranjith Devasiri had told Minister S.B. Dissanayake at the end of the discussion held yesterday (20th) that a group identifying themselves as personnel from the Ministry of Defense was roaming about around his residence. The Minister had said, "Now you are trying to fabricate another story. Why should I send people to follow you? You are a person we need…"
LT
Police complain made
Head of the university lecturers union Dr. Nirmal Ranjith Devasiri yesterday (June 21) complained to the IGP regarding death threats received by him.
The FUTA president said persons claiming to be from the military had inquired about him from his neighbours.
The association has decided to launch an indefinite strike on July 04 to press for their demands.
Dr. Devasiri said the threats received by him were aimed at sabotaging the union action.
SLM