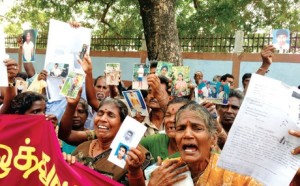 White Van Stories: A documentary on disappearances in Sri Lanka
Critically acclaimed Indian filmmaker Leena Manimekalai's White Van Stories, a documentary on enforced disappearances in Sri Lanka with never-seen-before footage, is set for an international release.

The two-hour documentary shows seven characters and the unexplained disappearances of their loved ones in post-war Sri Lanka.
The characters will also give audiences a stark glimpse at their resilience to find the disappeared as part of their continued fight for justice.
The global broadcast coincides with the forthcoming Commonwealth Heads of Government Meeting in Colombo that has been highly criticised in the face of Sri Lanka's ever-increasing human rights abuse cases.
"The lives of the families of the disappeared across Sinhala, Tamil and Muslim ethnicities are portrayed," said the documentary maker. The rally that was held in Jaffna and Colombo recently on Int'l Day of the Victims of Enforced Disappearances, during UNHRC High Commissioner Navi Pillay's visit to Sri Lanka is the centerpiece of the docu-feature. as the characters were amongst the hundreds of families of the disappeared who had protested
IE