(A Tamil Tiger flag flies in the northern city of Jaffna during Sri Lanka's civil war. Photograph: In Pictures/Getty Images)
In an extract from his memoir, A Long Watch: War, Captivity and Return in Sri Lanka, Commodore Ajith Boyagoda recalls senseless destruction by soldiers.
One moment stands out for me as the most formative of my military career. This was in Karainagar, on another of the northern islands, immediately after our military operation there in 1991. Dealing with the civilian sick and weak you really feel the effects of war.
In April of that year, I was awaiting transfer to Jaffna, eight years after my last posting to the north. I was summoned a month early because the naval base at Karainagar was under siege. The news in the east, where I was when I received the order, was that the camp was about to be overrun by the Tigers. Apart from the sea route, all other approaches were under siege. The news we received by radio reported heavy mortar attacks on the base at night. When I left Trincomalee, many of my colleagues did not even want to shake hands with me and wish me good luck. They felt I was going to a certain death.
We left at night, journeying in a gunboat along the eastern coast and around the top of the island. We sailed from Trincomalee past Mullaitivu to Point Pedro and on to Karainagar by morning. Sea access was secure and the navy patrolled the Karainagar channel. As we approached the base, I saw casualties being removed and taken to the nearby air force base at Palaly.
Other personnel were going off shift – we were on a regular relief vessel going to remove troops and deploy new ones. The men leaving told us there had been a lot of bombing the night before and we should expect more that night. I was to be second in command at the base.
There is a routine even in these things. During the day there was generally a reprieve from fighting. There was better cover for the LTTE [Liberation Tigers of Tamil Eelam] at night, when they couldn't be seen from the air, so this generally was when they attacked.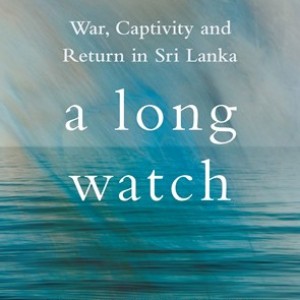 They were attacking with locally made mortars, known as Pasillan 5000 and Pasillan 2000. The numbers indicate the count of iron pellets inside the mortars. These are dispersed as shrapnel when the mortar explodes. This was custom made LTTE ammunition – cased in aluminium that had usually been removed from the floorboards of buses. But these mortars had to land directly on their nose to explode. Often we recovered unexploded mortars in the morning. In fact, most were wasted. Later on, they improved their technology.
For several weeks, as I remember, the bombardment went on almost every night. Towards the end of April, we broke out of our defensive position. At dawn, air force planes bombed the perimeter of the base to clear the way. Then armoured vehicles broke through the LTTE defences. Infantry troops followed. As army troops cleared the ground, naval troops took up position. We lost a few men and a few others were injured. There was a strategic importance to not losing this base.
After the operation was completed we emerged from our base. We realised then that the LTTE attack had not itself been that bad. I'm not sure it was much more than a few guys lobbing mortars at the base. But we saw a different kind of destruction when we came out.
In Karainagar, everything had been broken open. It felt like 90% of the houses had been forced open by the marching troops. It was here I really saw the mentality of a Sinhala army walking through a Tamil village. Whatever they saw, they destroyed. Wardrobes had been opened, clothes pulled out, family photographs smashed. The cattle and the goats had been let loose. I saw cows inside houses. I think anyone returning to one of those homes would not have thought twice. If they were young, they would enlist with the LTTE.
People had been directed to move to the temples. The army announced the instruction. Any marching army, seeing a figure moving inside a house, will fire at it, out of suspicion. But the code is never to open fire on a religious shrine. So that is where people were told to congregate. It was also for easy scrutiny, afterwards.
Within a few days, the army had control of the island. They would also take charge of screening civilians, to root out any LTTE infiltration. But I could see other kinds of aggression. So, when they asked for the segregation of men and women I objected, fearful of what could be in store for the women.
I told my superior, the northern commander, that the navy should intervene. The ultimate responsibility would be ours so we should intervene now. Although the army was in charge of the military operation, the navy would be responsible for the security and welfare of the people. I said the actions of our colleagues would be our burden to bear, so we should take charge from the start. I suggested that families should be kept together at all cost. I think people only feel secure with their families, not even with their neighbours. It was established that the naval commander in charge should make the final decisions regarding civilians.
Gradually, the soldiers began to vacate the island. We had a big issue with troops removing loot as they left. I told the officers in charge that they must take control of their troops.
The looting was systematic. The troops knew that the shrine rooms of houses generally contained the family safe. So, this was what they broke into, looking for gold. I had heard about looting of course. But this was the first time I saw it with my own eyes.
Just imagine: your house is intact today. Suddenly you're told to vacate it; go to some place. After a week or so, when you return, you find a ransacked house. How would you feel? A life's earnings maybe, gone at once. Maybe the work of generations, undone.
Take a family album: it doesn't mean anything to a stranger. But to you it is a treasure. There can be a lot of memories kept safe inside. Now all those memories have been desecrated.
I remember some casual talk after dinner when I asked a few young officers why there was so much looting. Why did they let their troops do this? I asked. Weren't they clearing the way for [Velupillai] Prabhakaran [the LTTE chief]? They told me a long story about how soldiers needed insurance in case they lost limbs to anti-personnel mines. I told them – "Look here, you don't have to worry about your soldiers' limbs. There is a government, there is a ministry. They are responsible people who will look after the welfare of your soldiers. You don't have to rob civilian people." Even to tell such a story was to set a bad example to their men and to one another.
They argue that in war these things happen. Maybe. But if we are trained and honest soldiers, we should at least correct the troops we each command. If some of us managed to do it, it wasn't that it couldn't be done – but that people didn't want to. Was it that they benefited too? Or was it just the easier option?
It was standard navy practice for troops to be checked for stolen goods before leaving a place. Sure, troops complained about being mistrusted. But it was just another drill, like checking a gun. After any firing practice you have to demonstrate that both the gun and your pockets are empty. It's a safeguard, nothing to get hurt about. Gradually these procedures were commuted, on the grounds we were in a war situation. But wrong is wrong, whether you're in peacetime or at war.
I couldn't stop the looting but I could stop the troops taking their stolen goods off the island. The soldiers were to be transported in naval vessels so I issued an instruction that nothing other than their military belongings should be allowed on board. Heaps of goods had to be dumped on the pier. They collected in great piles there. There were wedding photos in frames amongst the goods left on the pier. These were photographs of strangers, taken from the houses of strangers. So, it was not just about money. I don't know how you start to explain these things. There were children's toys, bicycles, just about anything. Initially, it seems to be a rational theft and then it becomes something completely different – collecting trophies of war. Perhaps when you are ordered to destroy things, you develop an instinct to spoil everything.
A Long Watch: War, Captivity and Return in Sri Lanka by Commodore Ajith Boyagoda, as told to Sunila Galappatti, is published by Hurst (£20)
theguardian