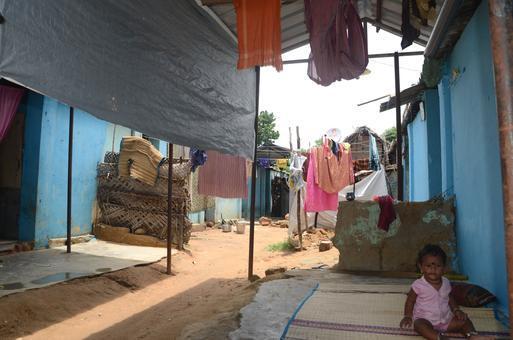 File photo of the refugee camp for Sri Lanka Tamils at Kullanchavadi inTamil Nadu, revfealing lack of basic facilities. Photo: C. Venkatachalapathy
"I do not want my child to be born and raised as a refugee," says Padma, resting her palm on her five-month pregnant stomach. She arrived in India as a little girl in 1990. The only transition since then is that she had moved out of a refugee camp to live outside in a house as a "veli pathivu" (non-camp refugee). She is one of the two pregnant women Tamil refugees, who were 'rescued' from the stranded boat off Velankanni coast on Saturday evening.
Bhanu, who is in the eighth month of pregnancy, was rushed to a hospital for treatment after she developed sickness on arrival here.
Magathi, a 31-year old school teacher from Vanni, had arrived in India with her husband and one-year old son on a visa five months ago, and has since been registered as 'veli pathivu.' Here in India, her husband was on odd-jobs as a coolie, and she is not used to being a refugee.
On Saturday, the Coast Guard was sent out on a mission to rescue these and other Sri Lankan refugees following a distress call about an unidentified boat, stranded off Nagapattinam coast. The refugees, 120 women, men and children, were from 18 camps in 14 districts in the State.
Contrary to initial media reports, it was not a spurious promise from some stray agent that led to their abandonment in mid sea, according to refugees.
Refugees who spoke to The Hindu said it was a hasty call made by a panicky fellow refugee that ruined the day for them. "The 65-foot boat was unexpectedly overcrowded. The boat was wobbly and the GPS snagged. The agent was going to send us help. But, a refugee panicked and gave us away by calling a relative who in turn alerted the authorities."
Many had paid between Rs.1 lakh and Rs.2.3 lakh, while many others were to make their payment on touching Australian shores. One of the refugees had already been on a similar failed boat voyage.
According to the refugees, everything is by word-of mouth. They speak to people, who have made such voyages and gained citizenship.
They send money to their families in the camps. They put them in touch with the agents only so that they can lead a legitimate life with citizenship. "Only last Wednesday, a boat solely carrying women reached Australia safely. After they landed, their husbands took a similar voyage the day after," says a man.
It is this yearning for citizenship and the rights that dawn from that status that propels them to undertake this dangerous voyage, they say.
"Do you know what it feels like to be denied of a basic driving licence, even after 23 years of stay in the country?
Do you know what it is to lead a life of headcounts every day and signing into the camp by 6 p.m. forcing us to take up unskilled menial labour in the vicinity so that we will return? We are not even entitled to a bank account," says 23-year old Mathan from Gumidipoondi camp, with an MBA and a B.A. Literature that has not fetched him a job.
He has attended "a hundred interviews", he says in fluent English.
The moment they see my refugee status, they are not inclined to recruit me. He needed to make this trip to earn money so that his parents would repay the borrowings made towards his education.
"There are some slurs reserved for us refugees in the security parlance. If we go away on a month-long contract job, our names would be removed from the camp registry. We will be ruthlessly interrogated by various agencies, and made to run around like nobody's people," says a refugee-graduate.
According to the men who spoke to The Hindu , the "political posturing in their name" has done nothing to the condition of refugees living here under subhuman conditions.
(Names changed to protect their identities)