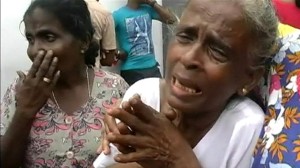 relatives of the killed prisoners calls for justice ( BBC photo)
Ranga Jayasuriya
scores of inmates who died in the Welikada prison clash were in fact summarily executed by the Special Task Force after the army commandos quelled the prison riot, prisoners and prison officials allege. "The last inmate was killed at around 6 am on Saturday," said a prison employee.
" The army took control of the prison around 2-3 am on Saturday. After the riot was quelled, prisoners had reportedly to gone to their cells. Later, the STF came with a list of names and some inmates were asked to come out of their cells" said an official.

Well-placed sources alleged that 11 bodies which were taken to the Colombo National Hospital were of the victims who had been summarily executed. One inmate had begged that he be spared. "Sir I have two children," said another official, quoting a prisoner who was an eyewitness. Prison officials alleged that their telephones have been tapped since the incident. "There is a climate of fear and intimidation since the incident and the authorities are all out to stop information leaking to the public," a prison official said.
Contacted by LAKBIMAnEWS, Commissioner of the National Human Rights Commission Dr. Prathiba Mahanama said the HRC had not yet launched an investigation.
"There are two investigations currently underway; one is a criminal investigation conducted by the CID and the other under the directive of the Minister of Prison Reforms. We will wait till they conclude their investigations," he said.
Repeated calls to obtain the views of Prison Reforms Minister Chandra- siri Gajadeera proved futile as he did not answer his phone. When this newspaper called to speak with Commissioner General of Prisons, P.W. Kodippili on Friday and Saturday, one of his aides replied that he was at 'a meeting.'
LBN