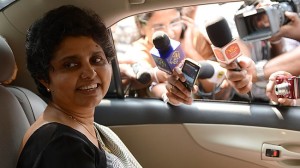 I, watching the scene on TV sobbed, my tears shed both with deep sadness at how she had been treated and because her elegant manner inspired a sense of triumph
Lawlessness is unleashed; rabble rousers abound and decency has fled, or is kept hidden?
We were invited to lunch at a friend's home in Battaramulla on Black Friday as January 13th is named for it was the day that Parliament accepted the decision of the Select Committee that Her Ladyship the Chief Justice was found guilty and impeached in indecent haste. (I don't know on what grounds, what her 'crimes' were and the choice of committee members on the government side left us gasping – you can name the reason for the shock: approval or disgust).

Traveling to Battaramulla we were curious to see so many alighting from buses and moving towards the Parliament junction. Returning after much joy in fellowship and reminiscing about the correct values we imbibed in our school which we were nurtured on in our homes, AND RETAINED, we were shocked to see a vast rabble shouting slogans, venting their wrath and demanding the removal of the Chief Justice. I wonder how many of them even knew her name, leave aside what the rumpus was about for which they were hired with money, food and drinks, we are told. They were terribly unpleasant to look on – sweaty, facial features contorted and prostituting themselves to a politician to shout insults, which we heard, to the Chief Justice. It rattled us. There was also a bunch of Golden Key depositors holding placards.
Further rabble rousing
Our perturbation continued when we saw TV news clips of thugs wielding poles and threateningly proceeding alongside a peaceful protest of dignified lawyers. And each day after watching the news, perturbation grew until it turned to agitation. We would ring each other and realize so many of us women felt the same. One said she could not sleep; another that she was so disturbed she was incapacitated with a headache, a third had to resort to taking a tranquilizer. We may be considered traitors when this article appears in print, but in truth we so love the country that when it is in trouble we are more concerned than even when a son or daughter is involved in a troublous situation. After all, the country has millions of children, who surely will suffer from the present conundrums.
Each day the thugs were more evident and more raucous and more vituperative.
The worst was seeing protestors, I would call them thugs, some labeling themselves on posters as Golden Key depositors, cooking and consuming kiributh in front of the entrance to the CJ's bungalow on the day His Excellency the President pronounced the CJ was persona non grata and had to vacate her post. The thugs then lit crackers and I heard shouted obscenities. The police looked on. I wondered whether they, the police, were treated to the milk rice.
This to me was the nadir of indecency since I assumed there were middle class persons in the crowd and probably millionaires who had deposited their wealth in Golden Key, greedy for higher returns. However thankfully, a sister newspaper editorial had it that they were hired thugs impersonating Ceylinco creditors. Here was a very residential area with the bungalows of government VIPs, the British Higth Commission and the Vipassana Bhavana Centre close by, and riff raff were making merry. The police did not raise a single voice nor baton to disperse the crowd. I suspect they were directed to protect and encourage the 'dogs' of rioting let loose.
Then on Tuesday, consequent to the president appointing another Chief Justice, the thugs and police held sway, meaning took over. Law abiding people like persons of the judiciary were blocked in Hultsdorp by the police wheeling in their now much used yellow barricades. Watching this on TV news, we cheered the lawyers on as they pushed the barriers, questioned the police as to why their exit and entrance from and to the courts complex was barred. "Through fear." one lawyer said and added, "What have you to be afraid of?" We guessed the reason: they feared the Lady CJ would come in and they were ordered to keep her out and protect the new appointee. Those law persons at the barricades lit candles and said the candles were on account of the death of democracy, and seated in our homes, we women were one with them.
The worst was the police action at the gate on Wijerama Mawata opposite the Chief Justice's residence on the evening of Tuesday 15th. Media cameramen had gathered to photograph Dr Shirani Bandaranayake's departure. The police barred them from approaching the gate and we noticed how almost violent they were. What was the purpose? The camera crews were unarmed and anyway, the authorities did not care a pinhead for the safety of the Lady CJ who many say is still the country's CJ. It then dawned on us that all force was used to prevent photographs being taken of the Lady and to block her making a statement.
Mercifully, much to our relief, the cameramen crowded round the car and took their shots. Dr Bandaranayake spoke, some of which we heard, some of which was blocked out by police pushing noisily the camera wielders. She thanked the public for being with her and the police for giving her protection (sic) and said she would always be loyal to the country. No blaming, no justifying herself. Nothing of that nature, only great dignity and a smile in all that melee. She and her family were brave to use the front entrance for their departure.
I, watching the scene on TV sobbed, my tears shed both with deep sadness at how she had been treated and because her elegant manner inspired a sense of triumph. She is a woman that should and will go down in Sri Lanka's recent history. She is the only one who can stand beside Sirimavo Bandaranaike, or even a little ahead of her. Mrs B, as she was called, had her faults and misruled once in a while, but she was the world's first prime minister and always carried herself with dignity and was not corrupt. So we shall place Dr Shirani Bandaranayke beside her on a pedestal as the first woman chief justice of this country, South Asian region and perhaps of Asia (Correct me if I am wrong). And then to have her wronged so deplorably and grossly. Consider how Members of Parliament insulted her! Also with what indecent haste the entire disgraceful and distasteful drama was enacted. Evil, like a boomerang zooms squarely back to the thrower. Evil begets evil which finally returns to roost.
The ousting of the Lady CJ was, to us a group of women friends, deplorable and incomprehensible. Multiply this group by all with like reactions and I am sure the huge majority of Sri Lankans would be of like opinion. If a favourite yes-person was to be appointed to the exalted post, it could have been done with decorum, time taken and not against the advice of religious heads, right thinking groups like the Friday Forum and representatives of foreign countries advising rectitude. But no, the government bulldozed itself through with hired thugs cheering and celebrating. And now when foreign governments with diplomatic finesse note the government is tampering with democracy and laying itself open to investors shying away from it, the government's loud mouths will scream 'foreign plot to destabilize Sri Lanka' and 'videshiya kumanthranayak'.
What paucity of sense! We humble folk realize the government has, in trying to enhance its face cut its nose. When will we ever be the hub of Asia; a fast developing country; a country set on reconciliation after a 26 year war and defeating the world's worst terrorist? We certainly are a country like no other, a country isolated by western democracies and possibly booted out of the Commonwealth of Nations, sure of a hard time at the next UNHRC sittings and investors avoiding the country. No matter since the government will roll along on its way. It's we ordinary citizens who will suffer. Proof already available. Just one example: the opening of a grand park in Nugegoda, not really needed, juxtaposed against a weeping peasant whose house had been washed away in the floods and a tent given for the entire family of six children and the parents to live in with no hope of receiving money to rebuild his house since he was a squatter on government land in a very rural area.
Weep bitterly, true patriots.
IS