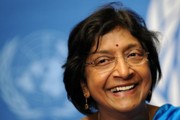 The External Affairs Ministry has no intention of levelling accusations at UN Human Rights Commissioner Navaneethan Pillay based on an internal communication circulated within the Office of the High Commissioner for Human Rights, a highly placed Ministry source said yesterday.

The official sources said this was in reference to a report on a March 22 email communication to the staff of the High Commissioner's Office by Asia-Pacific Division Chief Rory Mungoven of the OHCHR, announcing the adoption of the resolution on Sri Lanka by the UN Human Rights Council.
He had described it as, "the culmination of the sustained and determined work by many in the team and other parts of the house over the past few years."
Meanwhile, speaking to Daily Mirror, External Affairs Ministry Secretary K. Amunugama said the Ministry was verifying the authenticity and implications of the email communication sent by Mr. Mungoven and decide on the proper course of action to be taken.
The latest move comes days after Ambassador Tamara Kunanayakam Sri Lanka's outgoing permanent representative to the United Nations had written to Ms. Pillay accusing her of violating her mandate by granting excessive support to the US-led resolution against Sri Lanka.
In her letter Ms. Kunanayakam sought a clarification on the developments that appear to be contrary to the mandate granted to the High Commissioner and her Office by General Assembly resolution 48/141.
Ms. Kunanayakam claimed that Mr. Mungoven, soon after the adoption of the US-led resolution against Sri Lanka sent an email, dated March 22, acknowledging the contribution by a number of prominent officials of the High Commissioner's office towards the passing of the US-led resolution on Sri Lanka.
She said Mr. Mungoven had been previously posted to Colombo as Human Rights Advisor.
Ravinatha Ariyasingha will take up the post of permanent representative to Geneva from July 1.By (Dianne Silva)
DM