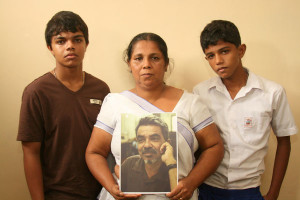 Family of Prageeth Eknaligoda
By -LeN Editor
It was three years ago today , that is, on the 24th of January 2010 , at about 7.30 p.m. , Prageeth Ekneliyagoda my close trusted friend for over 25 long years bid goodbye to me promising to return the following day.
On that 24th day morning , he woke me up by phoning me ; he said, there was a white Van without a registration number parked at the bend near his house at Homagama, and on it , 'Victory for Mahinda' sticker was pasted in the place where the registration number ought to be, he added. That was when the Presidential elections were around the corner.

As Prageeth had already been a victim of the white Van abduction , and had been released subsequently, I warned him not to step out of his house and that I would do all the needful for him . Prageeth just laughed it off ,, ' are you mad , am I to stop my work because of this or that fellow?', was his answer .After a few hours Prageeth visited our Rajagiriya office .Then he left to carry out some tasks and returned at about 1.00 p.m.
Prageeth was waiting for somebody expected to arrive from Dambulla at 2.00 p.m. Prageeth waited for him until 7.30 p.m. Meanwhile, I can remember he was giving calls to this person every now and then and inquiring where he was? This visitor had told him , he had alighted at Belummahara , and he was coming to Rajagiriya by three wheeler. Though there was enough time for him from 2.00 p.m. to arrive at Rajagiriya , this visitor finally did not turn up. In the end , Prageeth told me , the visitor arrived at about 7.30 p.m. By that time we had arranged for a modest liquor party . I told Prageeth to call his guest to the office and ask him to take a small 'shot' before leaving. Prageeth said 'no, no , we are going on an important discussion . We can't go there drunk. The 'man' is near the Cargills. I am going there' . When I asked Prageeth whether he would like me to join so that he will not be alone , he replied, ' it is close by , I will go', and left while promising to come back the following morning.
For our drinking company , I had only two others left with me. Since the two of them are popular artistes in Sri Lanka (SL), I do not wish to reveal their names . They are still in SL and alive. One of them inquired 'machan, is Prageeth going alone okay?. The other stated 'no , Cargills , is not that far away'. They spoke thus because the visitor was supposed to be Prageeth's friend.
The unwelcome incident had occurred within a visible distance between the office and Cargills which is not very far. Yet , by the time we became aware that the individual who came was an abductor in pursuance of the plot to abduct Prageeth, it was too late. It was only later that we realized that individual was one known to Prageeth only , and not to any of us.
That was the last we saw of Prageeth . It was only on January 25th 2010 at about 10.00 a.m. that I came to know that Prageeth had gone missing . This information was passed to me by C. J. Amaratunge of Lankadeepa News Paper , a friend of both of us . Nobody from Prageeth's household informed me in the previous night of his not returning home that night. The abductors trailing behind Prageeth was going on for a long time. That operated to their advantage.
When Poddala Jayantha, Secretary of working journalist association was abducted , somebody informed me immediately by phone of the abduction . Since prompt action was taken by us ,we were able to save Poddala 's life even though his legs were broken. We believe this rescue was possible because of the receipt of immediate information following the abduction. Unfortunately , in Prageeth's case , the abductors had planned it so cleverly and craftily that we were denied that opportunity to save him.
On the 25th , that is the day following the Prageeth's abduction , an abductor who came for Prageeth's abduction had taken a call at about 1.00 p.m. on mobile phone No. 077 0375704. That had been recorded by the communication Tower at Alawwa . At about 2.00 p.m., I received this information. I passed all these data and information to the police. But to no avail. The infamous ASP 'Deshabandu' in charge of the Mirihana police region at that time suppressed everything. The Chief Inspector Janaka who recorded the statement of mine did not write down my statement regarding the Alawwa communication record.
We staged a demonstration the following day demanding the restoration of Prageeth to us. The posters in that connection were produced by me. I have produced 15000 different kinds of publicity posters and artworks during the past 28 years . The last poster that I produced was 'give back our Prageeth'. Thereafter I had not produced any posters for the last three years. But the famous photograph however of Prageeth that appear now and then are mine . The first photograph taken from the first digital camera purchased by Lanka e News was that of Prageeth. Simultaneously a video footage of Prageeth was also taken. Unfortunately it is now not in my possession. That must have got destroyed when our office was put to the torch .
With the exit of Prageeth from my life , most of my life too had ebbed away. I feel if I had been abducted , and Prageeth had been saved , it would have been better. Had I not lost such a good friend , it will be he who would be facing the sufferings with me now. . He will be the one who will be spearheading the struggle with me . Indeed , I must confess he is a greater campaigner than I.
In any case , three years after our campaign demanding to 'give our Prageeth back ', Lanka e news team and me are now not taking the same stance. Our stance is different: we are demanding to give us those who abducted Prageeth that day , and who gave instructions for the abduction as they must be meted out the due punishment.
One coolie who claims to be Left oriented of the murderous MaRa regime who barks for filthy lucre picked from the lavatories of the regime or when hired to do so for money had some time ago reported , Prageeth is not a media personnel , and he was abducted because he charmed Mahinda Rajapakse by sending ashes of dead bodies to him. This same filthy stinking coolie whose whole gaze is fixed on picking up filthy lucre from regime's lavatories , and therefore unable to see anything else clearly also wrote , Lasantha Wickremetunge was murdered not because he was a journalist but because he was spying for India.


We urge the nation to beware of and identify these wolves and rabid dogs masquerading as journalists who are prepared to sell their self respect , honor (if they have any) and even their profession at the first sight of filthy lucre , and who are serving the disgraceful aims of 'Spin Doctors' of the murderous regime and fulfilling their most sordid contractual obligations.
Lanka e news is in possession of copious information regarding the abduction of Prageeth .There will come a time when the murderous regime's so called sentinels and brags will turn into crows that cannot even caw and birds that cannot fly and escape. That will be the era when the puny fish will become sharks , and truth will declare itself . We will then settle old scores by paying back in the same coin with honesty , integrity and dignity unlike these wolves and rabid dogs.

By Sandaruwan Senadheera –Chief Editor of LeN
(Sinhala Original Translated to English By Jeff)