Mujib Mashal, Fahim Abed and Fatima Faizi .
KABUL, Afghanistan — As he reported for years on the killing of civilians around him, the Afghan reporter Samim Faramarz grappled with the idea of mortality in a country where violent deaths are the overwhelming daily reality.
"We live death," Mr. Faramarz, a 28-year-old reporter for the Afghan channel ToloNews, wrote on Facebook in September 2016 after a double bombing in Kabul.
"Has anyone asked who are the luckier ones: those who die in terrorist attacks and leave this world, or those who are left living to see this oppression with their own eyes," he wrote in June 2017 after a suicide bombing inside a mosque where the poor were being fed.
This week his own death came, live on national television — the latest journalist to be killed while working to highlight the human toll of the war in Afghanistan, a 17-year conflict whose fighting is intensifying.
On Wednesday, Mr. Faramarz had finished his day's assignment: covering what changes might come with the arrival of a new United States envoy, charged with seeking talks to end the conflict.
Then, news came of an explosion in the western part of Kabul. In the latest Islamic State attack on a civilian target, a suicide bomber had fatally shot the guard of a wrestling gym, walked in and detonated his explosives.
Mr. Faramarz and his cameraman, Ramiz Ahmady, 23, rushed to the scene, where they reported live as young men in their wrestling singlets carried bodies off the bloodied mat and onto any vehicle they could find.
The last second of Mr. Faramarz's live report from the scene of an explosion in Kabul on Wednesday, before the blast wave from a second, much larger explosion cut off the broadcast.CreditTolo News, via Agence France-Presse — Getty Images
He was on air when the blast from a second, much larger explosion cut off the broadcast and killed them both, along with 24 others.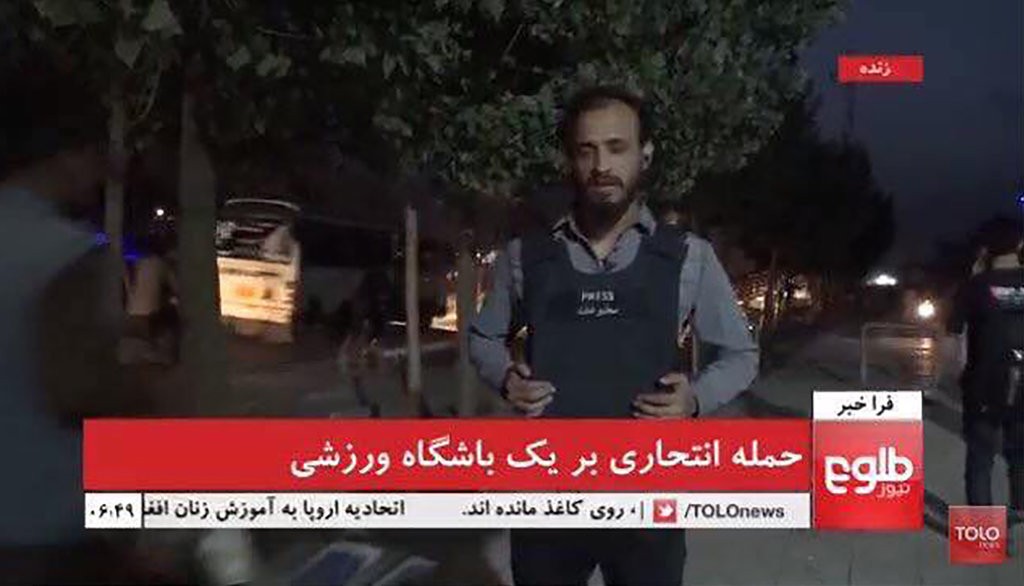 reporter's last words: "The area is completely terrorized. I can smell blood here, and as you can see in the pictures …"
When the phones of Mr. Faramarz and Mr. Ahmady went silent after the second explosion, the TV channel's staff started a desperate search, hospital to hospital, in the hopes of finding their colleagues alive. Then the search expanded from morgue to morgue, until their bodies were found.
"We found their bodies in the exact same place we found the bodies of our other colleagues two years ago," Lotfullah Najafizada, the head of the channel, said of a hospital morgue in the west of the city.
Thirteen journalists have been killed in Afghanistan this year. And in less than three years, ToloNews and its parent media company have lost 11 staff members to bombings. A minibus carrying workers home was targeted by a bombing in January 2016, killing seven.
A native of Kabul, Mr. Faramarz went to school in Turkey and earned a scholarship to study in Kazakhstan. A speaker of five languages, he was considering applying for a Fulbright scholarship for a master's degree in the United States. But he remained fiercely loyal to his homeland.
"I told him that it was a very good idea and that he should not come back to Afghanistan because this country is useless," his brother, Tamim, said of the possibility of going to America. "He told me: 'No, I should come back to Afghanistan. Our people are living in a tough situation — we don't have anything to live for here. We should do something for these people.'"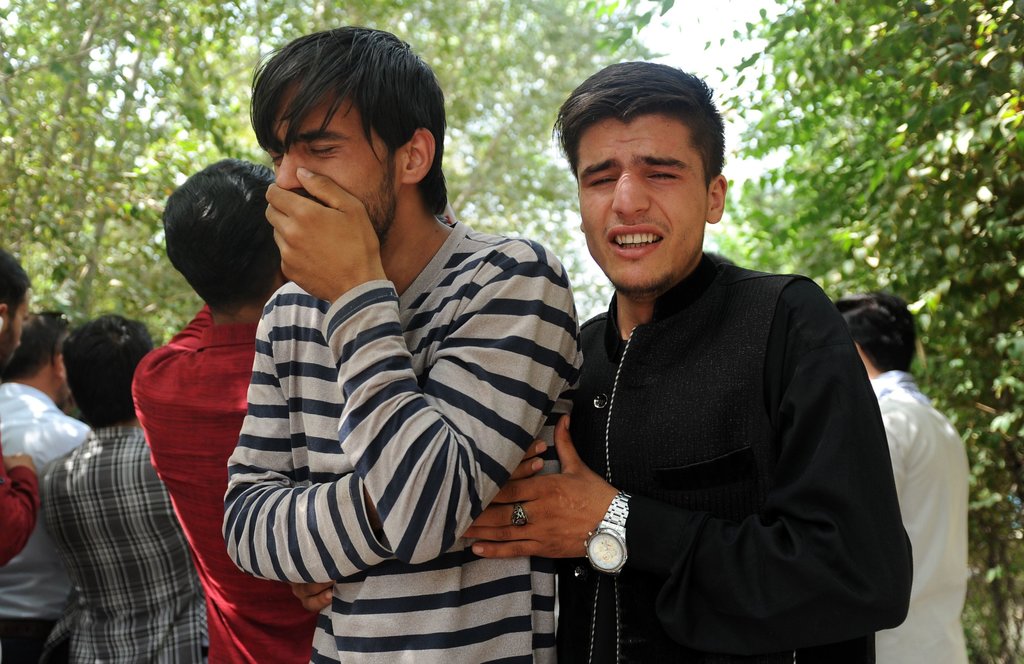 Mourners at Mr. Faramarz's funeral.CreditHedayatullah Amid/EPA, via Shutterstock
During a six-month posting in the west of the country this year, Mr. Faramarz befriended a stray kitten and brought it back with him to Kabul, and he soon took in a second kitten as well. His fellow correspondent, Tamim Hamid, recalled joking over breakfast in the ToloNews cafeteria on Tuesday about the kittens' fate if something were to happen to Mr. Faramarz. He said the kittens could become part of his obituary.
Mr. Ahmady, the cameraman, studied law part-time and had recently started a small chicken farm on a loan.
"He had covered 10 suicide attacks, and he lost his life covering the 11th," said Atiqullah, Mr. Ahmady's uncle, who, like many Afghans, uses only one name. "I asked him many times to leave his job. He kept telling me that if he left his job and his other colleagues left, who would show the sorrow and pain of the Afghan people to the world?"
When Mr. Ahmady's family had arrived outside the hospital morgue, they joined nearly 200 others waiting for news of loved ones. A ToloNews employee said that when he walked outside to deliver the news, it seemed that Mr. Ahmady's father, Noorullah, could immediately tell that his son had not survived. Before the employee spoke, Noorullah asked him not to say a word. He said he didn't need to hear. He walked away, into the distance, and asked to be left alone for a while.
Atiqullah, the uncle, said that just two weeks ago he had attended the burial of another of his nephews, a police officer killed in a Taliban attack.
"I feel that I am asleep and all this is a nightmare," the uncle said. "I want someone to wake me up and say everything is O.K."
At ToloNews on Wednesday, the staff was in shock after the bombing. The newsroom's most senior leaders tried to rally a tearful crew.
Karim Amini, a correspondent, delivered the news of his colleagues' death on the air, and for the next two hours held back his emotions to speak with guests on the set. As the camera shifted from him, he would take a deep breath and a sip of water.
"I don't know what to ask the guests — what can one ask?" said Sadaf Amiri, his fellow anchor, who walked off the set to lean back in a chair, her eyes filled with tears.
The morning news meeting the next day, where the team discussed plans for covering the burials, was quiet. Half stayed to work, while the other half went to pay their final respects.
The anchorwomen Marzia Hafizi and Shogofa Danish talked viewers through a split-screen broadcast of the two burials, in two different parts of town.
"Dear viewers," Ms. Hafizi began as the coffins were lowered into graves, "you are watching the burial processions of our ToloNews journalists Samim Faramarz and …"
She choked on her words and started crying.
Ms. Danish, gathering her strength, picked up where Ms. Hafizi had trailed off.
In Mr. Faramarz's final Facebook post, last Friday, his eloquence reflected the frustrations of a generation losing hope in the face of cruel attacks.
"In an era of passivity, fake reality and meaningless violence, what is it really that we should look up to?" he wrote. "The corrupt leaders who are dragging us into more conflicts while filling their pockets? The disputed god who is watching the whole world being destroyed in vain? Or the highly overrated democratic system which is already falling apart?"
"As of now one thing we know for sure is that the long-lasting struggle and war in our small part of the world is a direct consequence of fights over power and greed," he continued. "What we don't know is how much longer it is going to last and where it is taking us."