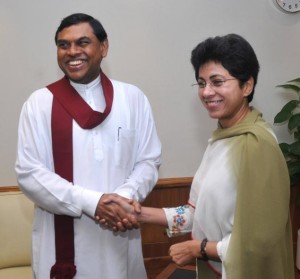 Basil Rajapaksa
Basil Rajapaksa
Apparel, IT and automobile sectors offer potential for Indian investment
Meera Srinivasan
Sri Lanka will not need the Comprehensive Economic Partnership Agreement (CEPA) with India any longer, as both countries had moved on, said Economic Development Minister Basil Rajapaksa.
According to him, the Sri Lankan business community felt it did not need CEPA as they had found good markets. In any case, he said, India did not make things easy for Sri Lanka, as, on the one hand, while it seemed like India was opening up its market, there were new barriers [non-tariff], on the other.
Though CEPA has been in the works since 2005, several attempts to arrive at a consensus only proved futile. Negotiations began after a joint study group set up to explore ways of expanding bilateral trade relations and means for greater flow of investment between the two countries made its recommendations in 2003. Even after 13 rounds of negotiations until 2008, both countries could not come to an agreement. And now, the minister said Colombo felt both countries had moved on.
Suggesting that an open market offered the best alternative, Mr. Rajapaksa said: "Those days, it was a restricted economy, so we needed a special bilateral agreement."
Indian businessmen, he said, were making a mark all over the world, and in Sri Lanka, too. "They are taking over fortune 500 companies, and that means Indian businesses are growing so much. They don't need any special protection now." Similarly, Sri Lankan businessmen had also made their way into the Indian market, he said, adding there was a free flow of goods.
Dismissing the need for any broad framework for bilateral trade, Mr. Rajapaksa said Indian businessmen anyway got special concessions and tax incentives from the Board of Investment (BOI), Sri Lanka.
Hinting at CEPA now being perceived as irrelevant, he said, politicians and diplomats were clinging on to CEPA only for the sake of "its image". All the same, trade relations between India and Sri Lanka, the minister said, were "very good" at present, with bilateral trade "rapidly increasing".
He said that from a distance it might seem like the balance was tilted in India's favour, but as Economic Development Minister he did not think it was a negative factor.
"Our biggest trade partner is India, and in South Asia Sri Lanka is the biggest for India. So both ways we have to increase the amount [of trade]."
Apparel, information technology and automobile sectors offered potential for Indian investment, he said. "There is a lot of Indian investment coming into Sri Lanka," he said, pointing to an Indian CEO forum that had been formed in Sri Lanka.
"I was surprised to see so many members. That means there are big numbers to even form a CEO forum."