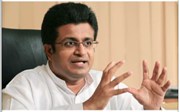 Jathika Hela Urumaya (JHU), a constituent party of the ruling coalition has made a very strong criticism of the recommendations made by the Lessons Learned and Reconciliation Commission saying that the commission has given in to Tamil nationalist demands forgetting the rights of the Sinhalese majority.

Minister of Agriculture, Agrarian Development, Irrigation, Livestock Production and Development, Trade and Environment in Western Provincial Council and legal adviser to the JHU speaking on behalf of the party says that the party does not support majority recommendations of the LLRC and the report does not contain single opinion expressed by them at the hearings.
Mr. Gammanpila in his interview has mentioned some of recommendations/ observations that they oppose:
• Recommendations for power sharing based on the observation that there is a ethnic question in Sri Lanka
• Using the term Diaspora which may lead to an understanding that Tamils have a separate motherland within Sri Lanka.
• Allegations of armed atrocities against the Eelam People's Democratic Party (EPDP) led by Minister Devananda and group led by Minister Karuna Amman.
• Recommendation to investigate Human rights violation by the security forces and not recommending to take action against LTTE leaders living abroad for war crimes.
• Recommendation to appoint officers with Tamil language proficiency to all state institutions in a situation Sinhalese living in Tamil areas too facing the same language problem.
• The recomendations on Tamil and Muslim IDPs because th e LLRC has forgotten the 150,000 Sinhala IDPs who were living in North and east of the country.
Mr. Gammanpila has expressed these ideas to the citizen journalism Sinhala language web site, Vikalpa.