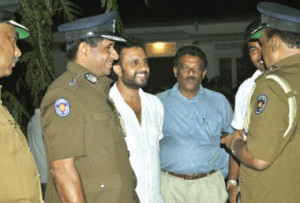 Sudharman Radaliyagoda in white shirt with police top brass after arrest warrant issue

d
Deputy General Manager of the state owned ITN station, Sudharman Radaliyagoda who is under a police warrant to be arrested for the past one year and 10 months was yesterday seen walking freely with Defence Secretary Gotabhaya Rajapaksa.

The court issued a warrant on Sudhraman on July 19, 2011. However, the police failed to arrest him although Sudharman was seen in public on many occasions and even photographed by the media.
Yesterday morning Sudharman joined Gotabhaya to walk along the Japan-Sri Lanka Friendship Road near parliament to witness the construction work taking place in the area.
Every one passing by on the road witnessed the protection received by Sudharman a wanted person by the police. The irony was that the police in fact was providing security to Sudharman yesterday while he walked with Gotabhaya.
Sudharman was issued the warrant for forging letters on Sri Lanka Telecom letterheads and cheating several businessmen and taking monies amounting to several millions of rupees from them.
LNW