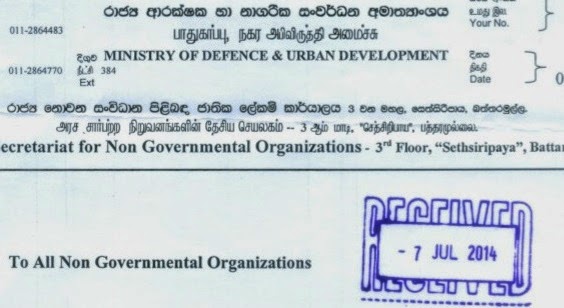 The Ministry of Defence (MOD) today played down the instructions issued to Non-Governmental Organisations on the need to stick to their mandate. Defence Ministry spokesman Brigadier Ruwan Wanigasooriya said that the instructions were issued as a mere reminder and it was nothing new. "This is not a strengthening of regulations," Brigadier Wanigasooriya added.He said that there are 1416 NGOs registered in Sri Lanka and all of them follow a set of regulations which have been in place for several years.

The MOD) had yesterday told NGOs, through a letter, not to go beyond their mandate.
The MOD letter sent to NGOs notes that some of them conduct press conferences, workshops, training for journalists, and dissemination of press releases which is beyond their mandate.
"We reiterate that all Non Governmental Organizations should prevent from such unauthorized activities with immediate effect," the letter said.
Some NGOs had however raised concerns over the letter issued by the Ministry of Defence.
Colombo Gazette
No attempt at restrain NGO's work – Brig. Wanigasooriya
Only a general reminder to act according to the Mandate
National Secretariat for Non Governmental Organizations has reminded NGO's only to act according to the mandate issued by the letter of Director/Registrar Mr. D.M.S. Dissanayake, said Director/Spokesperson of the Media Centre of the Ministry of Defence, Brigadier Ruwan Wanigasooriya addressing a media briefing at the MoD Media Centre today morning (8th July).
Clarifying a general perception that it is an attempt to restrain the NGO's work he said that it is a false information disseminated to misguide the public.
He further pointed out the Acts that are in force and the prevailing legal background which are clearly mentioned in the website of the NGO's Secretariat (http://www.ngosecretariat.gov.lk).. There are no any legal provisions to act beyond the Mandate, he stressed.
a. Voluntary Social Service Organizations [Registration and Supervision] Act Number 31 of 1980
b. Voluntary Social Service Organizations [Registration and Supervision] [Amendment] Act Number 8 of 1998
c. Regulations issued under the Act published in the Extra-ordinary Gazette1101/14 dated 15/10/1999
d. Circular Letter of the Secretary to the President dated 26/2/1999
MOD