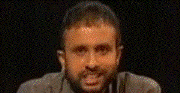 A court order has been issued to arrest ITN Deputy Manager Sudharman Radaliyagoda, who has been charged of committing a fraud of forging documents and collecting Rs 1.5 million from two businessmen promising to get them scrap iron that were detached from the Colombo Badulla Railway line.
The Kaduwela Magistrate and Additional District Judge ordered the Mirihana Special Investigation Bureau to arrest Sudharman Radaliyagoda, who is also a UPFA organizer for Colombo district and a candidate of the alliance at the last general election, at his office premises before June 12 and produce him in courts on or before that date.
However, there had been many instances Radaliyagoda had been with police officers despite having an open warrant to arrest him. He had visited Kotte Rajamaha Viharaya and had been in conversation with senior police officers. He had also taken part in the UPFA May Day rally and walked with police protection in front of the demonstration. He is still at large and is having very close associations with government politicians at the top and senior state officials. It is reported that Radaliyagoda is not arrested due to his connections with the highest echelons of the government.
At the hearing Kaduwela Magistrate Ms. Lanka Jayaratne asked Mirihana Special Investigation Bureau whether there was any obstacle for arresting Radaliyagoda. The Police officer present said there was no obstacle however he could not be arrested despite carrying out investigations at his residence and other places, He said the suspect was not present and could not be arrested.
The Counsel D.P.G. Karunaratne, appearing for the complainants, pointed out the order to arrest and bring the suspect before Court had been made a long time ago and despite the IGP directly instructing the Investigation Bureau and Radaliyagoda taking part in several public functions, the police has not been able to arrest him. The counsel said the complainants are prepared to point out where the suspect could be found and added that the suspect often visits his place of work.
The Magistrate told the police officer that it was the responsibility of the police to arrest and bring suspects before Court without considering or being influenced by their positions and ordered the police to go to the place where he works, arrest him and produce him before Court before 12th July.
It is now revealed that Pathum Pasquel , a coordinating secretary of Minister Ranjith Siyambalapitiya too is involved in the rackets carried out by Sudharman Radaliyagoda.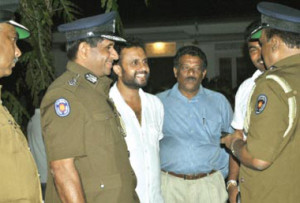 Radaliayagoda with Police after the arrest order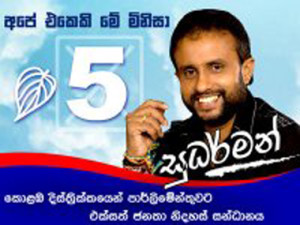 His election poster in the General election 2010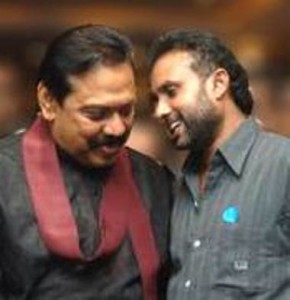 with The President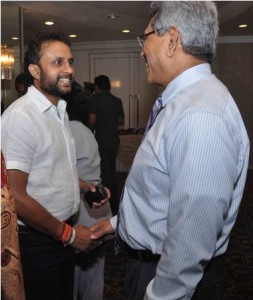 with Gotabhaya Rajapaksha, defense secretary