[ Bomb attack on the house of Sarath Rathnasiri, who expressed his support to Common candidate]
CaFFE Election Report 23 –
Campaign for Free and Fair Elections (CaFFE) has received a number of incidents on election related violence, the day before the nominations were to be signed. UPFA supporters held vehicle parades across the island.
However several cut-outs of President Rajapaksa near the elections secretariat in Rajagiriya were removed in the early hours of today. But no other cut-outs across the country had been removed. CaFFE has received 59 complaints of election law violations by 8 am today (Dec.8), out of which 19 were incidents of violence. Eight (8) cases of use of firearms were also reported.
Pelmadulla UNP local councillor hospitalized after assault
Pelmadulla UNP local councillor Manjula Dias Wickramanayake was assaulted by a group which arrived in a motor vehicle on December 06 morning. Wickramanayake said he was assaulted by supporters of a UPFA regional politician.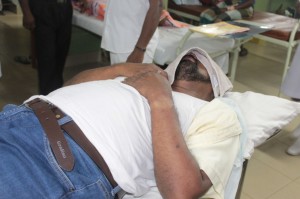 UNP Hiriyala organizer also assaulted
UNP Hiriyala organizer Asiri Kumara Herath was also assaulted at Hiriyala, Kurunegala yesterday evening. He was admitted to Kurunegala Teaching Hospital. He said that Hiriyala SLFP organizer, Minister Salinda Dissanayake and Ibbagamuwa PS Chairman UK Sumith, led a group of armed goons who assaulted him. Herath was having a cup of tea after campaigning when the assault took place. UNP Hiriyala organizer added that Sumith held a pistol to his head and threatened him.
Bomb attack in Dankotuwa, Vennappuwa
House of UPFA supporter GPHN Sarath Rathnasiri was bombed today morning around 3.30 am. He has met the brother of the Common Candidate last week and assured the support to Mr. Sirisena. The house was damaged by the attack and fragments from the bomb, foreign made, were found near the house. This was the 8th incident using firearms.
Former provincial councillor Jayaweera Bandara assaulted in Yatinuwara, kandy
A group of opposition supporters who were pasting posters announcing the common opposition candidate's rally in Kandy was assaulted today morning at 1.30 am. Around 30 goons took part in the attack. Former Provincial Councillor Jayaweera Bandara and two others were wounded.
MP Hunais Farook's vehicle stoned
The vehicle of MP Hunais Farook who crossed over to the UNP was stoned yesterday (Dec. 7th) evening. The incident occurred after his vehicle collided with a motorcycle in Borella. Police claim that this incident was not politically motivated.
CaFFE has received information that the vehicle parades have been organized after nominations are handed over. However such parades are illegal until a week after the election.
Media Unit – CaFFE Dec. 8th, 2014
Rajith Keerthi Tennakoon
Executive Director/CaFFE