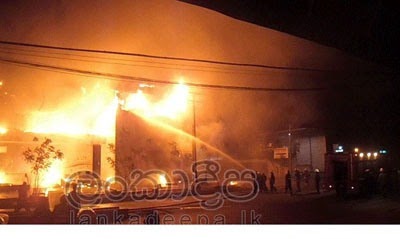 The secret armed group that is operating under the patronage of the Rajapakse regime ,and the Bodhu Bala Sena terrorist organization have launched attacks in three provinces across the country targeting the Muslims yesterday night (20) alone, according to reports reaching Lanka e news. The main attack has been launched on the main showroom building at Panadura of 'No limit' a branch of the leading garment marketing and sales chain belonging to a prominent Muslim businessman. The entire building has been reduced to ashes and the damage caused amount to many millions of rupees !

It is to be noted the 'No limit' organization had all along been targeted by the BBS terrorists to pay off their vengeful and venomous grudges and a victim of plain jealousy of the BBS. For a while the BBS let the No Limit organization free from their intimidations and threats after No Limit made a colossal payment as extortion fee to BBS.
Committing arson in Sri Lanka is now a sport and play under the present regime : similarly the Colombo Kachcheri (registrar office) , CWE , Port, part of Bandaranaike memorial international conference hall (BMICH) were engulfed by mysterious fires in the recent past . Significantly , no suspect has been arrested so far .
Kamal Muslim mosque situated at the center of the Jaffna town too had come under attack yesterday night though arson was not committed . Interestingly , there is a contingent of members of the forces as many as about 50,000 in the Jaffna peninsular meaning that , not even a bird can fly across without being noticed by the forces. It is therefore intriguing how this holy mosque was attacked without their notice.
The third attack had been on a hotel named City Hotel at Trincomalee owned by a Muslim.
Meanwhile the Muslims staged peaceful demonstrations Island wide yesterday(20) and the day before against the recent brutal violence unleashed in Alutgama and Beruwala . On the 19 th , a hartal was staged in Colombo, Trincomalee, Amparai, Puttalam and Vavuniya by the Muslims who closed all business establishments in protest against the racial riots committed by terror groups allegedly inspired by the ruling regime. Processions too were staged in remote places.
Muslims after their regular Friday prayers yesterday (20) , in every area where prayers were conducted staged peaceful protests carrying placards before leaving after the prayers . The previous day , the government unofficially warned that if any violence erupts during the hartal , the Muslims shall be held responsible.
The photographs depict the devastated No limit building at Panadura .