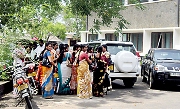 Waiting for job interviews, Ampara
With provincial council elections slated for September, a government-backed recruitment drive has begun in three provinces — Eastern, Sabaragamuwa and North Central.Elections Commissioner Mahinda Deshapriya told the Sunday Times he was helpless over the matter except to direct the complaints to the Public Service Commission.
Besides recruitment, since the dissolution of the three provincial councils on June 27, staff transfers have also recorded a new high.
"The powers under the 18th Amendment to the Constitution have been limited, compared to the 17th Amendment which was abolished," Mr. Deshapriya said.Among recruitments that have taken place after the dissolution of the councils are 1,395 graduate trainee appointments in Batticaloa and 200 disaster management assistants in the same district. Recruitments to hospitals and state sector banks are also underway in the district.
In Sabaragamuwa consisting of the Kegalle and Ratnapura districts 78 appointments of minor employees and 70 transfers have been granted since nominations were called for the elections. In the North Central Province, a number of Development Assistants have also have been appointed, but figures were not available.
Opposition political party secretaries raised the issue of appointments and transfers when they met the Elections Commissioner on Friday.
They also alleged there was misuse of state resources including vehicle and personnel for election activities.
The commissioner had said he would inform ministry secretaries about the control of vehicles and personnel, but added that his powers had been curtailed due to the 18th Amendment to the Constitution.
By Damith Wickremesekera
ST