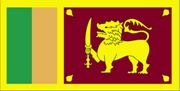 The Tamil National Alliance (TNA) Parliamentarian Appathurai Vinayagamoorthy was reluctant to hoist the National Flag when he was invited to do so by Minister of Social Services Felix Perera at a function held in Jaffna yesterday, sources said.

An event was held at Veerasingam Hall, Jaffna to distribute livelihood assistance for the people living below the poverty line in the North. At the beginning of the event Minister of Social Services invited the Jaffna District TNA Parliamentarian Appathurai Vinayagamoorthy to hoist the National flag to start the event.

However, Vinayagamoorthy refused to hoist the Lion Flag and told the Minister he would hoist the flag when the right time comes.
In contrast to TNA Chief R. Sampanthan holding the Lion flag along with the Leader of the opposition at the May Day rally in Jaffna a month ago, Vinayagamoorthy not once, but refused thrice when the Minister pleaded with him at the Veerasingam Hall yesterday sources said.
CT