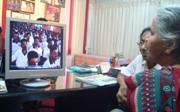 A picture published in The Hindu on October 1, 2011, brought hope to Saroja Devi, a resident of Alambil in Mullaitivu, who has been searching for her son who surrendered to the Sri Lankan Navy, since 2008. A video shown to her at the Office of Commissioner General of Rehabilitation on Friday doused that hope.

Her search for Kerbert Morino Leon Roxy, who should now be in his late twenties, and who, according to her, surrendered to the Sri Lankan Navy on July 9, 2008, continues.
After watching the video of the ceremony at Temple Trees, where President Mahinda Rajapaksa handed over to families ex-LTTE combatants who had undergone rehabilitation and training, repeatedly on Friday afternoon, Saroja Devi said the boy in the picture at the reintegration ceremony was not her son.
"The boy has the forehead and the eyes of my son. But it does not look like my son. It has been five years. He also would have changed," she said, crestfallen.
After the report of Saroja Devi searching for her son with the photo that appeared in The Hindu was published, Commissioner General of Rehabilitation Brigadier Dharshana Hettiarrachchi and his team began the work of locating the three boys that she claimed surrendered to the Navy on July 9, 2008. They were in the middle of serious practising for the victory day celebrations slated for May 19 in Colombo.
"We have examined the video and went through the list of names. The three names are not there in the list," he said.
To make sure that Saroja Devi does not have any doubts, he requested her to come down from Mullaitivu and see the video. The images convinced her that the boy is not her son.
Other two
Questions, however, remain about the other two — Savarimutththu Anton Hudson Lorantine of Kanagapuram, Killinochchi and Murugesu Muruganandan of Murasumottai, Paranthan — who surrendered along with him: their visages are clear and their families too are headed for Colombo, to ascertain details of their missing youths.
"One member of Hudson's family said they were coming in soon," said Mano Ganesan, Democratic People's Front leader, who first took up the cause of the missing youth.
Brig. Hettiarrachchi said efforts were on to trace the boys and bring them to Colombo so that there would be no doubt in the minds of the families.
Mr. Ganesan says regardless of what the Bureau of the Commissioner General of Rehabilitation says there is need to trace the whereabouts of the youth. "It is fairly clear that they had surrendered. Now the State has to account for them," he adds.
Before she left the office of the Commissioner General of Rehabilitation, Saroja Devi asked him who would be able to help trace her son. Brig. Hettiarrachchi assured her that he would try to help her. "Aiyyo Kadavuley [O, My God]," Saroja Devi sighs.
For her, and thousands like her, missing their near and dear ones in Sri Lanka's long-drawn out, bloody war, closure now appears a mirage.
R. K. Radhakrishnan
The Hindu