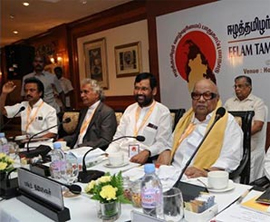 VK81212
The Nawa Sama Samaja Party (NSSP) Leader Dr. Vickramabahu Karunaratne was literally told to shut up by the TESO on Sunday, when he was prevented from continuing with his speech at the inaugural session of the contentious conference.
The embarrassing incident happened when he accused India of being partly responsible for the grievances of the Lankan Tamils.

Along with Dr. Karunaratne, two expatriate Tamils attending the conference were also silenced by the people at the head table when they criticized the 13th Amendment, which was annexed to the Lankan Constitution, on the guidelines of India.
In this backdrop of TESO being convened in Chennai, Indian Minister of State for Parliamentary Affairs and the adjacent to Prime Minister Dr. Manmohan SinghV. Narayanaswamy has reiterated categorically that the Indian Government will not support Tamil separatism in Sri Lanka.
Minister V.Narayanaswamy speaking to a group of Chennai newsmen on Sunday explained the Indian Central Government's stance with regard to TESO and said "India will never-ever support the idea of dividing the island nation." Commenting further on India's stance he said, "India will stand by any political solution reached to address the Tamil question without harnessing the unity and integrity of Sri Lanka .
The problems of the Lankan Tamils should be addressed with greater devolution of power."In the meantime, two unnamed Lankan Tamil expatriates along with NSSP Leader, Dr.Karunaratne, participating at the TESO conference were not allowed to criticize the 13th Amendment to the Lankan Constitution, which was introduced on the guidelines of India.The two Lankan expatriates were the only Tamils of Lankan origin who at the Chennai conference. When the time was allocated for discussion, they said the 13th Amendment will not be a viable political solution to the Lankan Tamils.
When the two began criticizing India, the DMK's Minister in the Central Government, T.R. Balu stopped them from continuing with their criticism.The NSSP Leader, the only Lankan to participate at the TESO conference was allowed to sit at the head table along with the convener of the conference M.Karunanidhi at the inaugural session on Sunday.
But he was stopped by DMK's former Indian Central Government Minister T.R.Balu when he said that India joined hands with the Lankan Government to suppress the Tamils. Dr. Vickramabahu Karunaratne was attending the TESO meeting on the invitation of DMK Leader M. Karunanidhi. Initially, when he made the arrangements to travel to India for TESO, he was not issued with an Indian visa.
However, on the recommendation of the DMK leadership, he was issued with the visa.