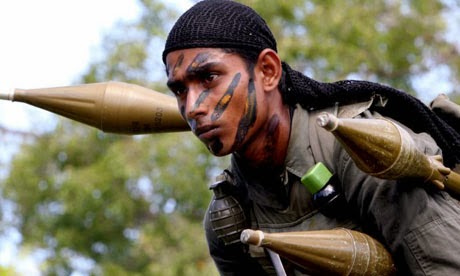 Armed to teeth
The administration of the Bandaranaike Memorial International Conference Hall (BMICH) in Colombo has suddenly cancelled a booking placed by the Bar Association of Sri Lanka (BASL) to conduct a public forum on the implications of a gazette notification to vest police powers in the armed forces.'The booking had been made by paying an advance of Rs. 50,000 for the event on March 19, but we were told on Friday that the booking was cancelled as the President is visiting the BMICH," BASL President Upul Jayasuriya told the Sunday Times.

He said the booking was made after declaring that the Forum was on the 'rule of law'.
The event was due to be attended by trade union representatives, professionals and civil society representatives.
"We have inquired if it was possible that the event could be held at the same venue on either March 20 or 21, but we have not been given an answer saying that the book with bookings is with the Director," he said.
Mr. Jayasuriya said that the BASL had decided to convene a public forum on the issue after previous calls to withdraw this gazette notification had been ignored. "We find that the powers are being misused and therefore wanted to discuss the matter," he said.
BMICH Director Bandula Ekanayake yesterday told the Sunday Times that he could not comment on the cancellation of the booking as he did not have 'the book' with him.
"I don't know what is happening on this day because I'm not in office. But if something like this comes up, other programmes will be cancelled for security reasons," he said.
He said he could not confirm if the President would be visiting the BMICH or not.