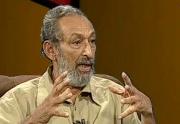 Close on the heels of the government appointing a committee, headed by presidential Secretary Lalith Weeratunga to implement LLRC recommendations, National Languages and Social Integration Minister, Vasudeva Nanayakkara has proposed the formation of an interim committee to provide immediate relief to affected communities.
The MP is of the opinion that people couldn't wait till the full implementation of the LLRC recommendations after the conclusion of a 30-year-war and an interim mechanism was necessary.
Minister Nanayakkara said that interim committee could handle relatively minor issues until the appointment of a Special Parliamentary Select Committee to implement the major LLRC recommendations in line with State policy. The veteran politician emphasized that as the recommendations could only be realized by a Special Parliamentary Select Committee. The government needed to act swiftly and decisively to address other grievances through an interim mechanism under presidential purview.
He called for the appointment of a Convenor by the president to head the interim mechanism.
The Democratic Left Front (DLF) leader, Vasudeva Nanayakkara recently wrote to President Mahinda Rajapaksa urging him to appoint an interim committee, to tackle contentious issues now to prevent them from being an impediment to the LLRC process. The Ratnapura District MP said that tangible action on the part of the government would help it to silence those skeptical of the ongoing post-war national reconciliation process.
The proposed interim committee could even call relevant ministers and officials for consultations and to take speedy action to address grievances of all communities, the minister said. The minister asserted that nothing could be as important as providing immediate relief to the needy and tackling issues that affected them.
By Shamindra Ferdinando
IS