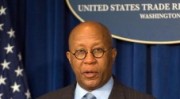 Ron Kirk
The Embassy said that United States Trade Representative (USTR) Ron Kirk announced yesterday that USTR has closed the Generalized System of Preferences (GSP) country practice review on worker rights in Sri Lanka without any change to Sri Lanka's GSP trade benefits.

The United States has decided to continue with the GSP trade benefits for Sri Lanka, the US Embassy in Colombo said today.
The action follows an interagency review of a petition filed by the AFL-CIO in 2008 alleging shortcomings in Sri Lanka's recognition or worker rights.
Ambassador Kirk said, "The closure of the GSP country practice review of Sri Lanka was based on the Sri Lankan government's noteworthy efforts to address worker rights issues over the past few years. This welcome outcome to the review demonstrates that GSP remains an effective tool for engaging GSP beneficiary countries on worker rights."
Over the course of the last few years, the government of Sri Lanka has taken significant steps to improve the worker rights environment in the country. Among these steps are: progress in initiating, investigating and resolving unfair labor practices cases; the establishment of trade union facilitation centers in each of the three largest Economic Processing Zones; improved procedures for conducting union certifications; and enactment of legislation to increase the fines for labor practices violations. The Governments of the United States and Sri Lanka will continue to engage on worker rights issues in the newly established Labor Affairs Committee of the United States-Sri Lanka Trade and Investment Council.
Under the GSP program, up to 5,000 types of products from 128 beneficiary developing countries are eligible for duty-free importation into the United States. In 2011, the total value of imports that entered the United States duty-free under GSP was $18.5 billion. U.S. imports from Sri Lanka under GSP totaled $135 million in 2011 and include tires, activated carbon, rubber gloves, plastic products, and kitchenware.
As part of the annual GSP review, an interagency U.S. Government committee led by USTR receives and considers petitions seeking to withdraw or limit a country's eligibility for GSP tariff benefits based on that country's compliance with statutory eligibility criteria. One such criterion is whether a beneficiary country "has not taken or is not taking steps to afford internationally recognized worker rights to workers in the country."
CG