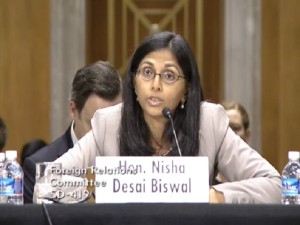 The United States has warned that if Sri Lanka fails to address accountability issues through its own internal process then there will be pressure exerted towards an international process.
Nisha Desai Biswal, President Barack Obama's nominee to be Assistant Secretary of State for South Asian affairs, said this while addressing the US Senate Foreign Relations Committee in her confirmation hearing.
"As Sri Lanka works to rebuild its society after a devastating civil war, I will, if confirmed, continue to stress the importance of reconciliation and accountability and for the government to meet its commitments to all of its population," she said.
Senate member Marco Antonio Rubio noted during the hearing that in Sri Lanka there were reports of 30 churches being attacked by Buddhist extremists. He said that he was not aware such a thing took place in Sri Lanka.
Senator John Mccain noted that Sri Lanka went through a terrible bloody conflict but there continues to be reports from human rights organizations that there are still significant human rights abuses taking place against the Tamils which rise to a level that is "very disturbing".
He asked if the US should be more active in condemning the ongoing serious human rights abuses.
"The US has been very active and very engaged with Sri Lanka and with the international community in expressing our concern about both accountability and reconciliation between minority populations and majority populations in Sri Lanka. We have made clear that we believe that if Sri Lanka does not address through its own internal processes that there will be increasing calls for international processes to address these issues," she said.
If confirmed by the Senate, Desai will become the first person of Indian or even South Asian origin to head the bureau, which oversees US foreign policy and relations with India, Pakistan, Bangladesh, Afghanistan, Sri Lanka, Nepal, Maldives and Bhutan.
Biswal will take over the South Asian affairs division from former US Ambassador to Sri Lanka and Assistant Secretary of State for South and Central Asian Affairs Robert Blake.
September 13, 2013