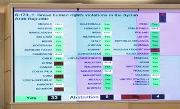 The US Government has rejected Sri Lankan External Affairs Minister Prof. G.L Peiris' "home grown solution" speech at the Woodrow Wilson Center for International Scholars during his visit to the US last week. State Department Spokesperson Victoria Nuland said the US Government stands by the Human Rights Council decision.
Nuland said this at the Tuesday Press Briefing in Washington DC.
A journalist at the briefing asked Nuland about comments made by Minister Peiris at the Wilson Center's audience, during which he said that Sri Lanka rejects the UN resolution supported by 23 countries, including the U.S.
"I think I spoke pretty extensively to the Sri Lankan meeting on Friday, gave you a pretty full readout there. We stand by the Human Rights Council decision, as we did at the time, and we continue to," Nuland responded.
Minister Peiris said at the Woodrow Wilson Center: "we are conscious of the opportunity that has now presented itself. We also realize that the process that we have in mind must be a domestic process. It can't be donor-driven or foreign-owned. That will be unhelpful in implementing the reforms that are required at this moment in history"
He further stated that at the end of the day, the solution that everyone wants has got to have a home-grown element to it.
Mendaka Abeysekera reporting from New York
CT